How to Become a Legal Citizen of the United States? Spoiler Alert: It Involves A Baby.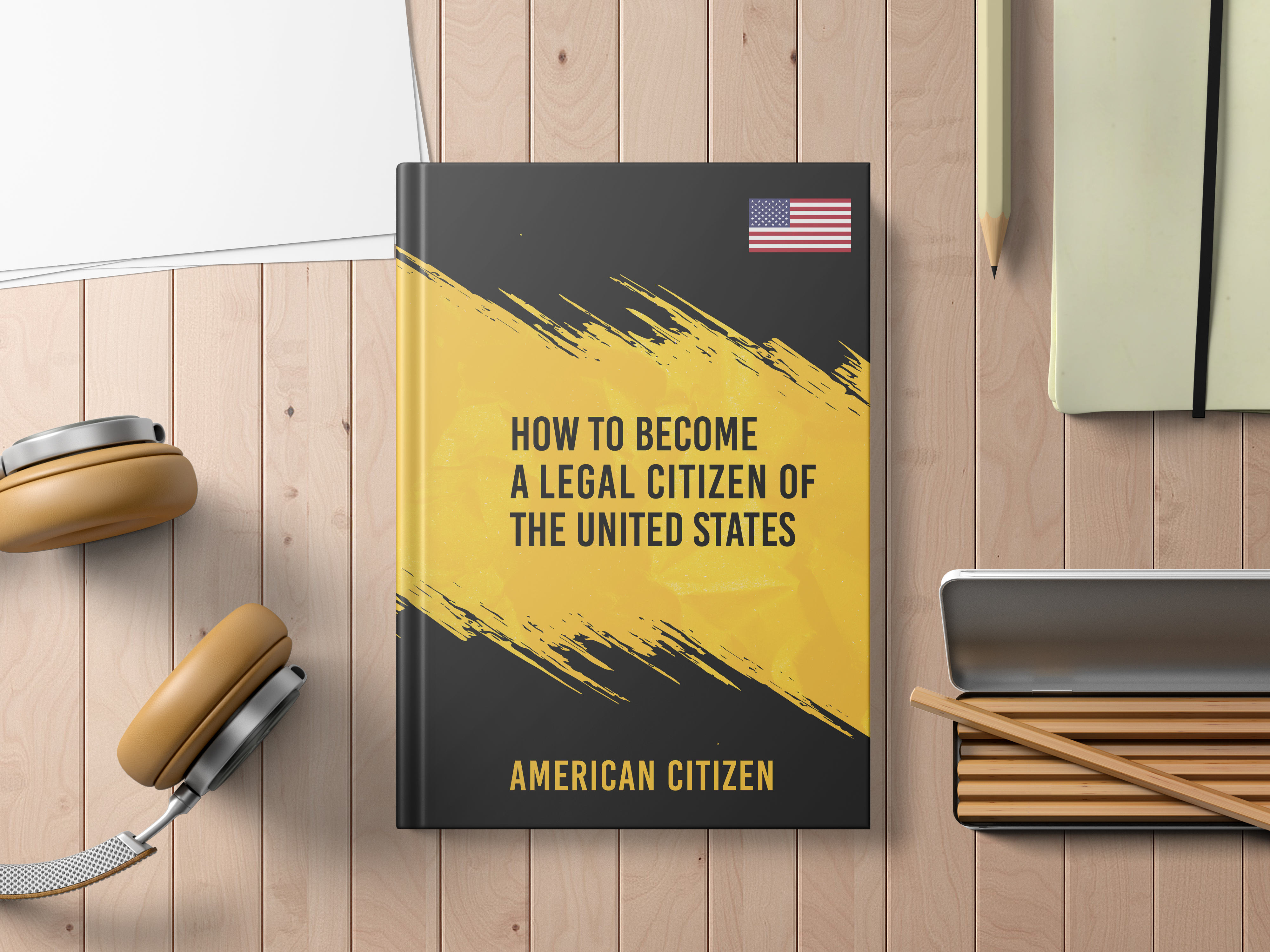 Many people think citizenship is a complicated process. They're wrong.
Becoming a legal citizen of the greatest country in the world is easier than it has ever been. Well, not actually. It's the same. Because getting into America has always required one thing, and just one thing: getting knocked TF up.
For many immigrants to the United States, this feels like fighting a demon with your bare hands and not getting anywhere. It's stressful, and that stress is enough to make even the highschool valedictorian start smoking crack. But, if you can make it through this stressful process, your rewards will be much better than you can even imagine. You'll get privileges like voting, international travel, and being free without feeling like a dirty little crack boy (or girl, for you ladies).
Besides, obtaining other stress-free benefits like buying weed from your trusted local dealer or going to the gas station to buy some cold cans of good old American beer, you will no longer have to fear police pulling you over in your 1990's Oldsmobile to say, "You're deported, you dirty illegal alien."
I mean, who wants that? Well, unfortunately, this happens to many immigrants every year. How many? God, you're so nosey. To be exact (your majesty), about 250k of them a year. And I know what you're thinking: yes it sucks, and this is a situation you'd never wish on your worst enemy. In a situation like this, it can be easy to feel your internal system is literally about to shut down. My cousin, Aldo, described it like this:
"Imagine you were in love with a girl for more than 30 years. You've shared every moment with each other and unconditionally loved one another. Then, one happy morning, you go out to Publix to buy some eggs and sausage to cook your anniversary breakfast. You're only gone twenty minutes, but you step back into the house and you find your wife straddling some nasty-assed bush wookiee on the bed you just left."
This is the same feeling you would get, and that many others get, on a daily basis when being deported. It doesn't feel nice. You may even feel just a little betrayed.
To avoid a situation like this, you need a safer, better, more interesting and more effective route. This is why you need to follow this master guide and turn your illegal alien self into a legal alien.
Before we throw some gravy on this biscuit, let's get educated on the process of becoming legal in this great land of opportunity. This process is known as citizenship through naturalization, and this is how it works.
Take Christianity as an example: in order for someone to become Christian, they have to go through a ritual known as baptism. A church official prays for the person, explains their new life as a Christian and the rules that come with that, and then anoints them with holy water.
Basically to become a citizen of the United States is kind of the same as a baptism only you won't be dipping your head into any holy water. There are other rituals you'll take part in, instead, to meet the criteria, such as completing an application, attending an interview, and passing an English and civics test.
Upon the successful completion of these ritual steps, you, the applicant, takes an oath of allegiance and, if you don't shit the bed, becomes a citizen.
So, now that you know how the 'becoming a citizen' process works, we can take a closer look at some of the early steps to getting started:
The Tools You Will Need to Get Started!
Ability to speak English — (If you happen to not speak English, do yourself a favor and download Duolingo. You can learn English pretty fast. My 2nd cousin, Ronaldo, learned English just in 8 hours and he still took a lunch break to spark up a doobie. Shiiiitt… I wish I had that when I was first learning the language, I was reading purchase receipts).
Basic Social Skills — (Yeah you don't need to get a master's degree in college to acquire this skill. You can just Google it, or watch some TED Talk videos on YouTube. It's all for FREE).
Decent Smart Phone — (The next tool you will need will require you to have a decent phone that's not dumb. It needs to be compatible with Apps in the digital market. If you don't have one because you don't have enough money, you can order one from China for under $100. And please don't go selling any Drugs or throwing yourself on the stripper pole to make money. It's not classy. But, hey, God gave us the freedom of will, so whatever floats your boat, man).
Download Bumble — (If you made it this far, congratulations! Bumble is a location-based dating application that lets you meet a lot of horny locals. Please don't confuse this with porn, this is a professional App. And you will not find people doing weird stuff like The Cleveland steamer. Hunghh… DISGUSTING. The idea behind Bumble is to meet your opposite sex and formulate a bond. Some people go there to hook up for the night while some are looking for a relationship, but deep down every human wants to be loved, so that is what you will be giving away).
Actually Go on The Date — (After you have matched with a few girls and you have had a good conversation for a few days in a row, you're gonna have to step out of your turtle shell, AKA the comfort zone, and actually ask that girl out on the date. Chances are she will say YES. 98% of girls don't reject the guys they have engaged in conversation with more than a few times).
Plant The Seed — (The next step is for you to actually get to know the person and see if you like them. If you don't, no biggie. Get your Bumble out and repeat step 5, player. Do this until one of them meets your vision. Once you have built a rapport, and you like your partner and they like you, it's time to plant the seed. Literally. If you are a dude, plant it. If you are a girl, let the dude plant it. One of you is going to be doing some gardening, that's what I'm trying to say.

Once there is a kid, the relationship will get stronger (this is a fact) and continue to advance. One day, it will lead to the most amazing moment anyone could ask for: marriage).
Now you may be getting your information from anywhere. Online forums. Communities. Blogs and news articles. But, once you find the man or woman of your American dreams, marriage will unite you and grant you the opportunity to be part of God's Country.
Now, just because it's simple doesn't mean it's easy. Don't be a wild animal and think you can just marry Mr. United States overnight. You can't acquire that badge of honor automatically with just a marriage certificate. And don't believe your buddy, George, who told you that you could just do it because he read about someone doing it in rural Alabama in the 60s. George is a liar. George doesn't care about your dreams. Those sounds you hear at night are coming from under George's house, and they sound human.
By marrying someone (for love) who happens to be a U.S. citizen (a citizen of love), you'll expedite your own path to love citizenship. And regular citizenship. But the illegal alien will still need to wait several months to actually receive the great gift of all holy blessings: 'a green card'. And, even then, it may take several years to actually become eligible to apply for citizenship.
Nothing that lasts comes easy, pal. If you aren't dedicated to successfully following the rules and steps, however, you will end up with your balls in your hands, which is right back where you started. You hold your balls, too much, man. This is out of control. We don't want to discuss it. Just…ew! Fix your shit.
But I digress (digross). To put it simply, the process goes a little something like this:
Start By Being Eligible — (You can't run a race if you've got no feet. Make sure you meet the requirements for citizenship before you start the next steps. If you don't, stop reading blogs, put your pants back on, and go make a plan). We'll be here when you get back, numbnuts.
Apply For Naturalization — (By now, you hopefully meet the minimum eligibility requirements for being a citizen, but you're still going to need to apply for naturalization itself, you lazy bastard. Remember the baptism process we talked about earlier? This is that!) 
Interview and take the citizenship test — (During your interview with an immigration official, you will be asked to take the citizenship test. Basically, the test is not too hard. I know 6th graders who can answer these questions, so you should be fine. What? Why do I know so many 6th graders? I have a lot of nieces and nephews, and those kids are dumb as rocks, so you'll be fine.

Here, you will be asked about your citizenship application, marriage, and background. If your interview happens to go well, you will move onto the next step, where you will take an English and civics test).
Swear allegiance — (In the final step, you'll take an Oath of Allegiance to the United States. I have nothing funny to say about this. It's a serious business. Also, if you can't get that right, Uncle Sam drops out of the sky and kicks your ass in front of all your friends, so study up!)
Now that we've gotten the hard part out of the way, let's jump right into the smelly butt crack that is connecting all of these pieces. At this point I am assuming you have the ability to speak English, you have acquired the basic social skills, purchased the Chinese smartphone, and gotten everything ready to move on to the next step: downloading the App that makes the magic happen.
How to Download Bumble?
Go to Android's Marketplace or Apple's App Store.
Type "Bumble" in the search bar.
Click Download
View the screenshot guidance below: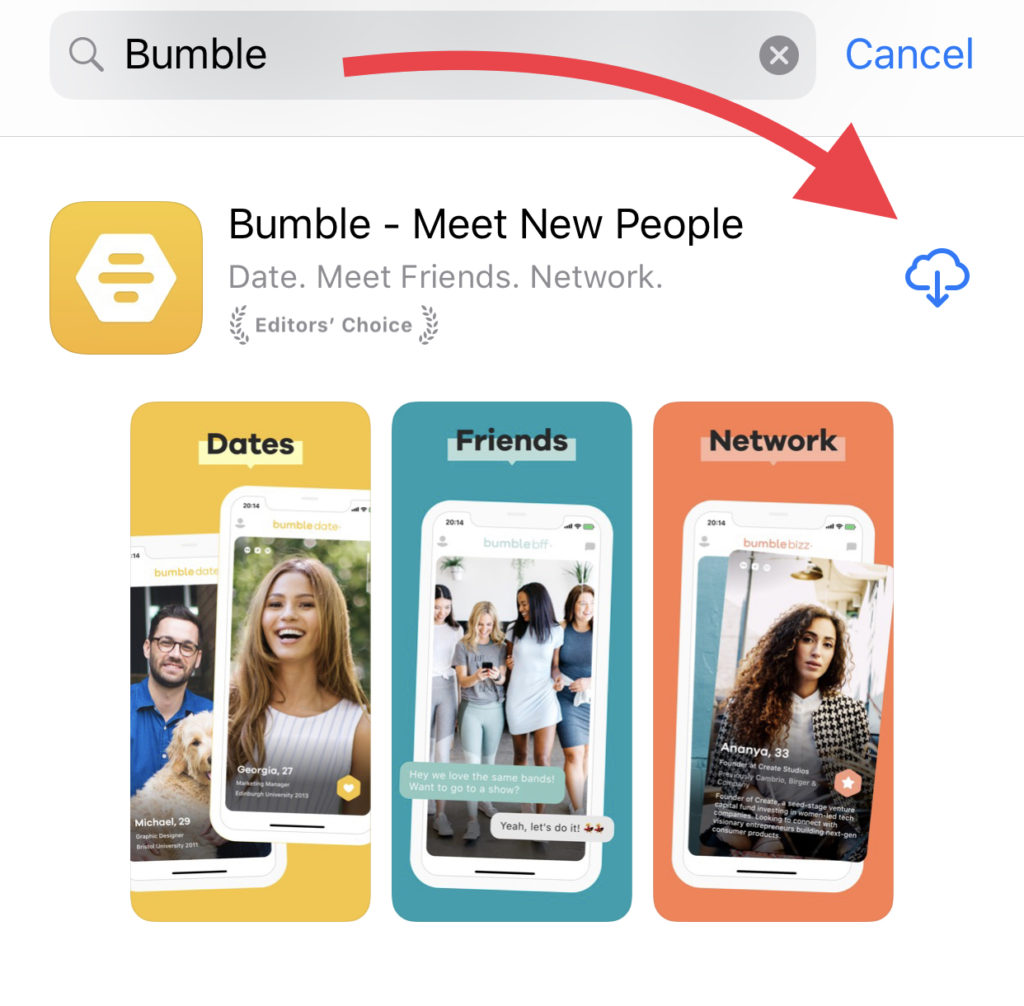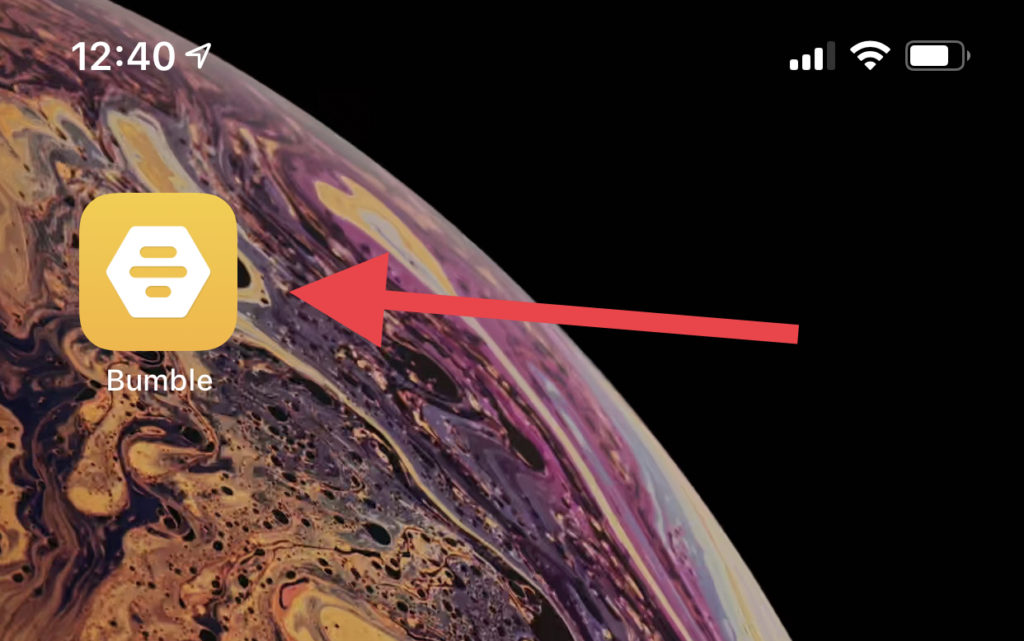 After you have successfully downloaded the app, we're going to have to get one thing straight. Before we dip our noodle into the complex and beautiful world of online dating, remember one thing: swiping left and right is not dating. Matching with someone is not dating, and chatting them is in no way dating. Clear on that, sparky? Good! Dating is the only thing that counts as dating, and matching with a dozen people and hitting up their inboxes doesn't translate into dating. You can have a great time flirting around and meeting new people but you're not really doing what you want to do, which is to meet people in person and jump into the world of relationships with both feet.
You need to nut up or shut up. This is a trick every dating App plays on its users. You'll quickly meet people, chat with them, share stories, and feel like "Yeah! This is going well!" But, when it comes to actually meeting that person in person, it's never as easy as just matching.
But just because something is hard, doesn't mean you should sit back and not face it. The only person who gets to not face things is someone without a face, and I can see yours right through this blog post I'm writing.
And the good news is it can be done! In fact, tons of people get on Bumble and convert each other as dates every week. My fat uncle Alberto actually met his girlfriend on Bumble, and they got married in 2011. I mean, six months later, he found her making goat cheese in their hallway closet with something that wasn't goat milk. They got divorced soon after that, uncle Alberto converted to Buddhism, and now he lives in the Himalayas with a group of rice-growing monks. He writes sometimes, but that's not the point. The point is, Bumble is great and goat cheese is not to be trusted.
So let's break down how to use Bumble to actually get dates that go somewhere. Here are a few powerful strategies:
Step 1: Set Up Your Profile Properly!
I know setting up a dating profile can seem about as painful as getting your teeth pulled without any anesthetic. Since your objective is to meet people who are actually interested in dating your stanky ass, though, it's important.
Here's what makes a great profile: good profile photos and a great Bumble bio. And, when I say a "great" bio, I mean "great". This needs to sell you as the single greatest date anywhere in the world, capable of moving mountains and buying islands. Or at least paying for dinner. You want to demonstrate value to people who may be interested in actually dating you.
This increases your chances of conversion! Moreover, it's just a great way to seal the deal!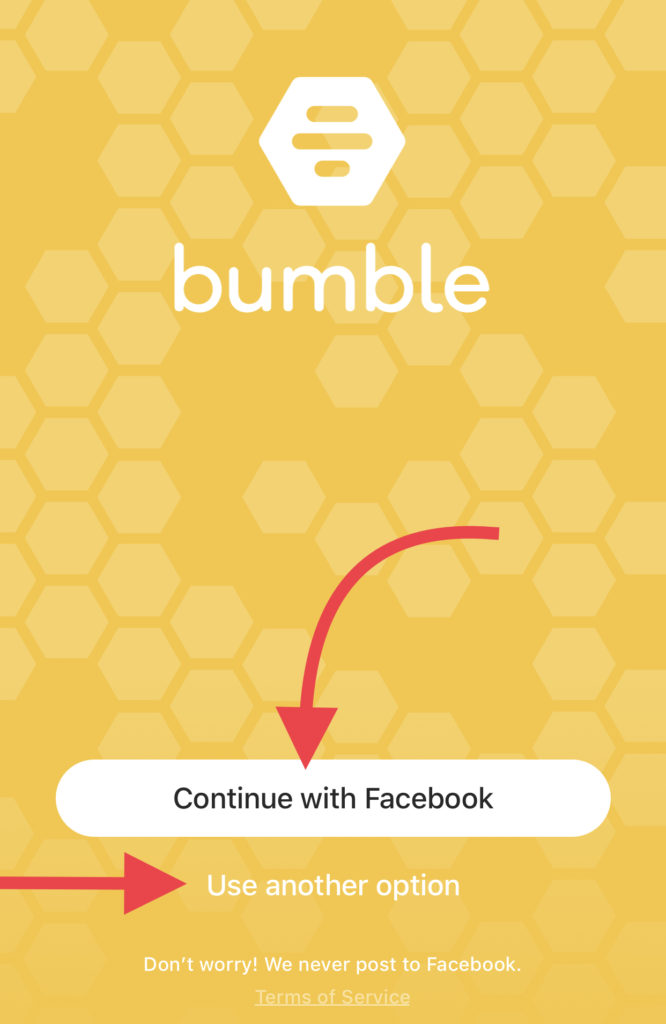 Once you are inside, update your profile information immediately. Don't waste time building up to it, just wade in and start filling out everything you can.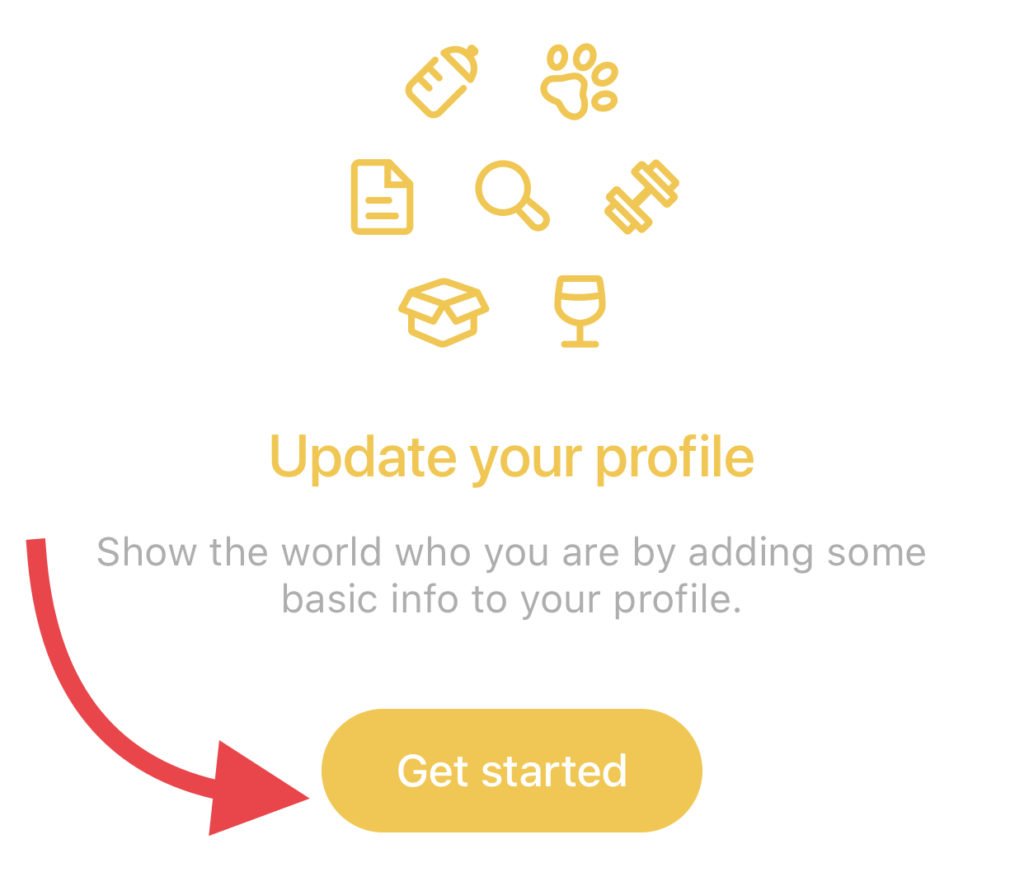 The following are a few great examples of the type of profile photos you should have so women don't think you are some creepy weirdo.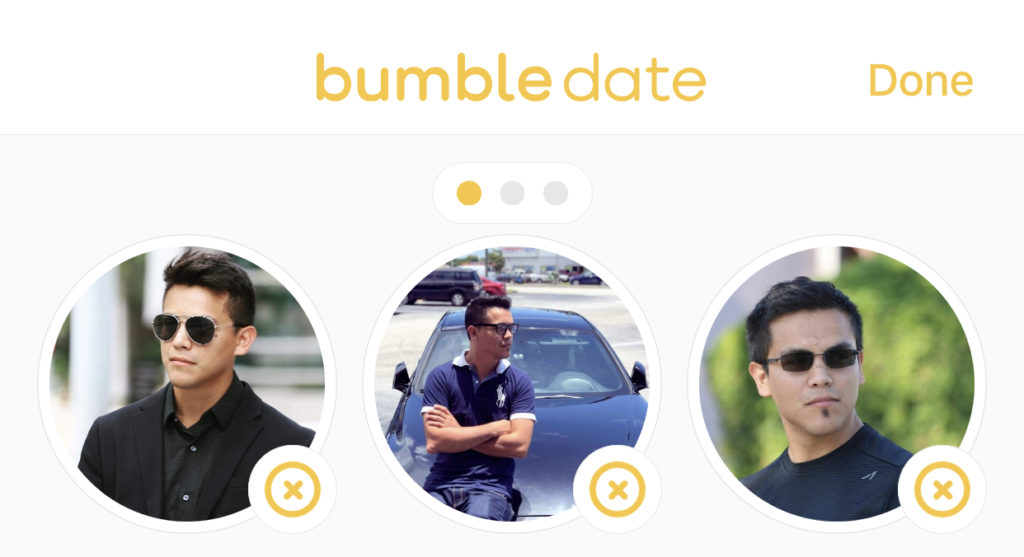 Got some good photos of yourself? Good, I thought you'd take all day. And remember: if you aren't happy with the way you look, online marketplaces like Fiverr and Yupe can make look better than any other supermodel in the world for as little as $5.
Now, your next key component is a halfway decent profile bio that says "Hi. Date me. I won't steal all of your stuff and kick your dog while you're asleep." Believe me – people love their dogs. You want to make that clear, right away.
Take a look at what Pancho's got cooking below:
Step 2: Swipe and match.
Like I mentioned earlier, swiping is the early part of this operation. Swipe right on those you think aren't worthy of your magical sexy parts and left on those for whom you would eat your way to their heart and watch the damn magic manifest in reality.
Did I mention Bumble becomes literally a full-time job? Once you start getting a few matches, you're inside the algorithm, Capitan Hook. You're going to get tons and tons of new matches on an hourly basis. Your phone will be so busy with notifications, you're going to need to hire an old saggy grandma with a wrinkly skin to help with qualifying all the leads coming your way.
Now, if you're not getting a lot of matches, on the other hand, you've got to go on a swiping spree. Don't be too picky with the people you match with either. Swipe until you can't swipe no more, then swipe even more than that, you little swiper.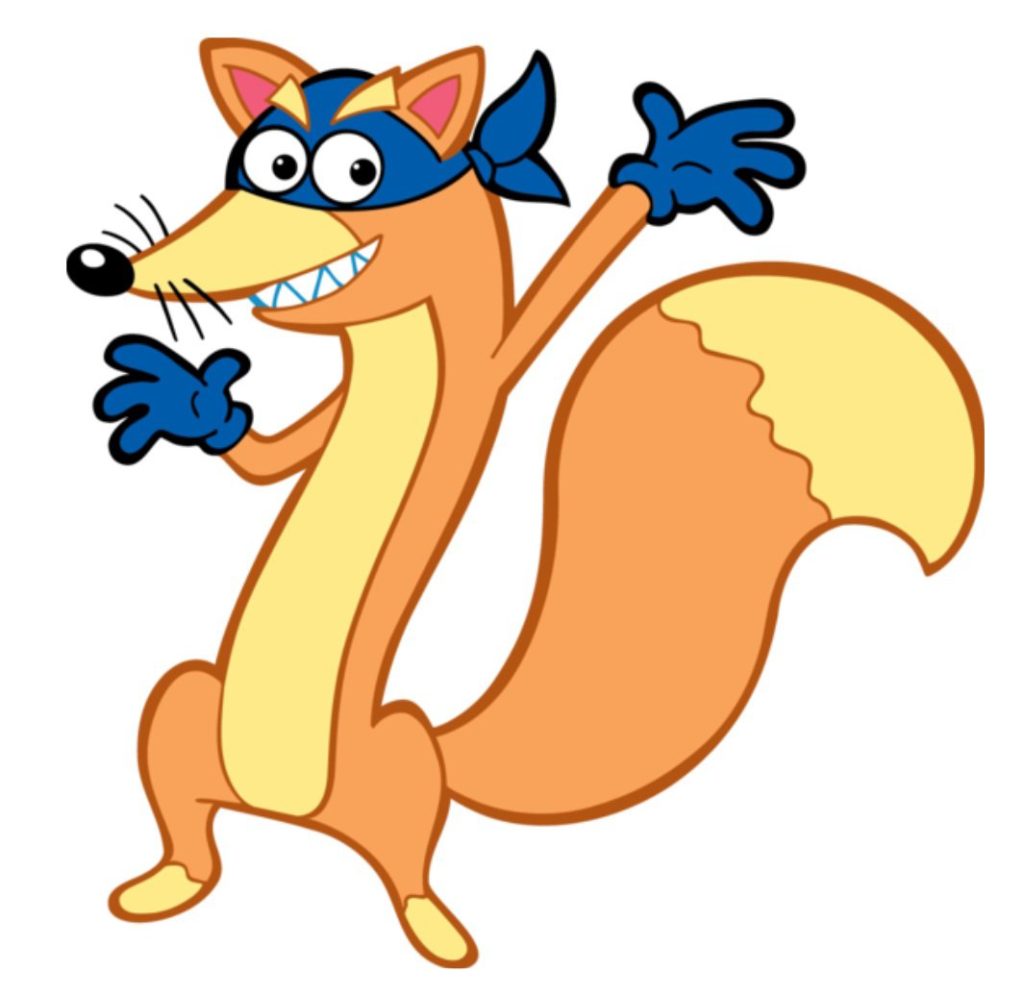 Step 3: Start a conversation.
You don't have to be a heterosexual to spark up a conversation on Bumble. You've just got to grow some balls, keep your objective in mind to start one, and just go for it! This attitude will also benefit you on your way to success, once you've set up and started living the American dream.
Look online, and you'll find so many blogs written about how to start a great Bumble opening line. But the real art of getting your match's attention is to say something more than just "Hi" or "Hey". Those are boring and will just set you up for failure.
Here is a list of great openers:
"Well, here I am. What were your other two wishes?"
"Life without matching with you would be like a broken pencil… pointless."
"We're not socks. But I think we'd make a great pair."
"If a fat man puts you in a bag tonight, don't worry: I told Santa I wanted you for Christmas."
"If I were a transplant surgeon, I'd give you my heart. As well as giving you my other organ "
"On a scale from 1 to 10, you're a 9… And I'm the 1 you need."
"Remember me?" [[She will say 'no'. Then reply]]: "Oh, that's right. I've met you only in my dreams."
"Wow, when God made you he was definitely showing off."
"You sure your name is not Wi-fi? Because I'm really feeling a connection."
"If looks could kill, you'd be a weapon of mass destruction."
"If you were a fruit you'd be a fineapple."
"Did you swallow magnets? Cause you're attractive."
"Wouldn't we look cute on a wedding cake together?"
"Do you believe in love at first swipe?"
Snatch one of these bad boy pickup lines and inject it as your opening line. Do not compliment the person – everyone else does the same shit and you will be moved right into the pet zone, which is even worse than the friend zone and, believe me when I say this, you do not want to go there.
Also, do not be one of those formal jackasses. This is not a business conference, and you trying to slide inside and act formally makes people put up their shields. Don't be asking some weird-ass questions, either, as that's a red flag for creepy weirdos.
Here's how one of my conversations went the last time I was out pimping on Bumble:
Me: You don't know how many times I had to swipe left to find you!
Girl: That's the sweetest thing I've heard someone say to me ?
Me: Oh wow, your profile says your 69 miles away, Well that's ironic…
Girl: OMG ? You're funny!
Girl: What are you doing tonight?
Me: You ?
Girl: Sounds like a plan to me!
Me: Does this mean we're dating now? Give me a second, I need to change my Facebook relationship status.
Girl: Good cuz, I already changed mine.
Step 4: Establish a good back and forth.
Like you just saw in my previous message with some dirty Bumble skunk, Malissa, once you get a reply back from the person you just messaged, keep the conversation going. You can do this by flirting deeper and, as long as you have good profile photos of yourself, women won't see you as some weird old man trying to get some young donuts.
And please don't be that boring slob who asks ridiculous questions to try to keep the conversation active. Yeah, you know what I am talking about. Those questions you ask your 5th cousin on family parties, "Where are you from?" or "What do you do for fun?" And, the worst of all: "What do you do for a living?"
Yeah, you won't be getting shit with lines like these. You will have better luck with those questions with a street skank in your hood town than someone you're trying to convert from Bumble.
If you sparked up a convo and you see it's starting to die down, keep in mind: the best Bumble conversations are when two people are chatting quickly. One idea moves to the next, and the next thing you know, you guys are kissing underneath the mistletoe. The more people you chat with, the more you will master the skill of engagement, so don't be afraid: take the chance and go for it, little one.
Step 5: Ask for the date.
Here's the greatest tip you'll ever get: humans love comfort. If you want to get anything worthwhile done, though, you have to forget the comfort. That's not how your mother brought you into this world. No sir, she was feeling uncomfortable the whole time, pushing that big head of yours out of her 'vagine'. But, in order for her to pop you out, she had to step out of the comfort zone and do what was not comfortable.
Basically, this is what it takes to move on to the next step. Chatting with a girl and holding up a great conversation is good and all but, after all, if you don't ask them out, you're pretty much asking for the 'pet zone' treatment.
There are a million different ways you can ask someone out on Bumble. If you don't know how, why don't you check out my conversation with this chick, Natalie.
[And, yeah: she was one hot Bumblebae]
Me: I've had a crush on you for the last hour.
Natalie: Oh wow: you putting me pretty up there on the scale huh?
Me: What can I say, I normally go for 8s but I guess I'll settle for a 10 😀
Natalie: Sounds like you're settling up to me.
Me: That's not the only thing that's up.
Natalie: Big talk from behind a keyboard.
Me: You'll have to let me show you in person. Say, next Thursday?
Natalie: What do you wanna do?
Me: Besides "Natalie"? We could start with drinks at Ocean Pub.
Natalie: I love Ocean Pub. You've got yourself a date, sir!
As you can see, what gets the job done is simplicity. That's right, this is something they just don't teach in society, nowadays, but it's all it takes to seal the deal.
Now, if they just aren't interested in you, don't go hitting up your depressed friends to get drunk or go to the strip club to spend your evening hanging out with weird sluts and crackheads. Be a smart human being and learn to move on.
It's not a big deal. Repeat after me: "Thanks for the good convo." Then move the F* on to the next person. You've still got quite the list to get through. Now, if every single one of them rejects you, we've got a problem. Well, you do.
At this point, you have everything necessary to justify giving up and just going with the same sex. It's clearly meant to be. (JK. Keep swiping 'til one of them goes through your sales funnel. Eventually, you will succeed if you persist).
Now, for the things you never do. And, when I say this, open your damn ears and listen to me like you mean it: Do not keep chatting with someone off and on for weeks and weeks. You will never get the chance to make that person your next date. She will forget about you and your intentions of love with her and her interests will disappear entirely. She'll move on to someone else who is not setting themselves up as her personal dog.
If you think you had a pretty good convo with her, take action and ask them out. If it doesn't work, it probably wasn't as good of a convo as you thought.
Step 6: Nail down the logistics.
If your mom didn't teach you this I will: at the end of the day, you are asking someone out on a date via an app. It is best to make plans for the week you're currently in. Don't wait like a year when you have plenty of great momentum with this person right now.
So be a good damn leader (and, no, Hilter is a terrible example), and plan something like grabbing a simple drink as soon as possible. Do not take the damn person to a club, either, they're going to think you are a slut or a true man whore. Go to the bar for one or two softies, or coffee. For this last one, I do not recommend Dunkin' Donuts. Terrible coffee that makes people shit on the floor. If your stomach is strong, wonderful. But you don't know if your future partner's stomach is strong enough to resist the force of a coffee flavored shit slide rushing out of them at 50 MPH. He or she might get schwifty, right there in the middle of the old DD and, trust me, you do not want that. Not even Rick Sanchez would recommend that.
So plan something that best fits in with your week's schedule and roll with it. Since you are the one asking for the date, do not look like a loser and have your future partner pick where you guys go. You're going to look like a dumb bag.
Have few ideas in mind or, if you're brain-damaged (and there there are many of them around), ask your best friend 'Siri' or Android's 'Cortana' to Google "What to do around + [your city]". This will give you a list of local blogs to help you navigate what to do in your area. Show your leadership and don't be a little b*tch.
Step 7: Keep it fresh.
Once you have both agreed on a spot for your magical time together, do not be a savage animal from the Amazon jungle and ghost the person. And do not be a little needy ass, texting and chatting with the person every day leading up to the date. Only text on the very last day before the date.
Step 8: Show up.
Okay, it's the big day. Do or die time. Do not screw the pooch and infect me with ebola okay, you guys. I've worked so hard to get you here. This is the moment where you rise or completely put all my hard work and sweat down into a rat sewer. Believe me when I say, I'm not going to take shit from you on this – hell no. I will beat your ass with my grandma's 72 years old World War II flipflops. I've learned many hard lessons from that goddamned flip flop — that thing wrapped this ass for most of my childhood.
Don't puss out on the last day and not show up. This is the part where everything starts to make sense. It is important. Whatever you do, do not think of this as a super big deal because your ass is going to be sweating, and that's never good. We need to keep things dry and under the control (especially your ass). Show up, hug the person hello, and get down to business. Tell that person how excited you are to meet them. How great they look. Don't make stuff awkward. Stop it. I can see you making it awkward. Roll with the conversation and think of that person as if you've known them for a very long time. This will put out the energy you want that person to swallow.
Remember, kid: no matter how things go here, you have already tasted success by converting that person from the app. The fact that you guys are sitting together in a bar looking at each other — that's the win.
Great job, buddy. You should be proud of yourself and no I am not sucking you off to build your confidence, put your dick back in your pants. I am telling you the truth. The truth no one wants to say is that Bumble is easy. Swiping, matching and chatting are all easy. But actually getting someone to come out on a date… well, that's the hard part, isn't it? It's going to take some practice. The more you practice, the more experience you will get. The more experience you make for yourself, the more confident you will be on your next date.
And, if your date doesn't work out, take your phone right back out and convert another one. You've got everything you need to do this over and over until one works for you. And, even if she wasn't the right fit, you've already forgotten all about her dumb ass, right?
Right.
The next steps are all pretty simple. Get pregnant. Get married. Get documented. Get that American dream. It's all laid out in the law and completely above board. The only people who seem to ever have a problem with it also seem like the kind of people not getting any sex to begin with, so don't worry about their opinions.
As the New American Economy puts it: "[A large undocumented population] is a problem for society. It undermines law and order, permits a shadow economy that is harder to regulate, and is simply unfair to the millions of immigrants who have come here legally."
What more American solution is there to this problem than to get legalized, come on over and start a family? Well? Don't just stand there with your dick in your hands – to the Bumblecave!
Disclaimer: The information provided here is not intended to constitute legal advice. All information, content, and material on this site are for general informational purposes only. For immigration information, please consult with a real lawyer and not my dumb ass.
Cozy and Chic: Stylish Faux Fur Options for Your Winter Wardrobe and Home Decor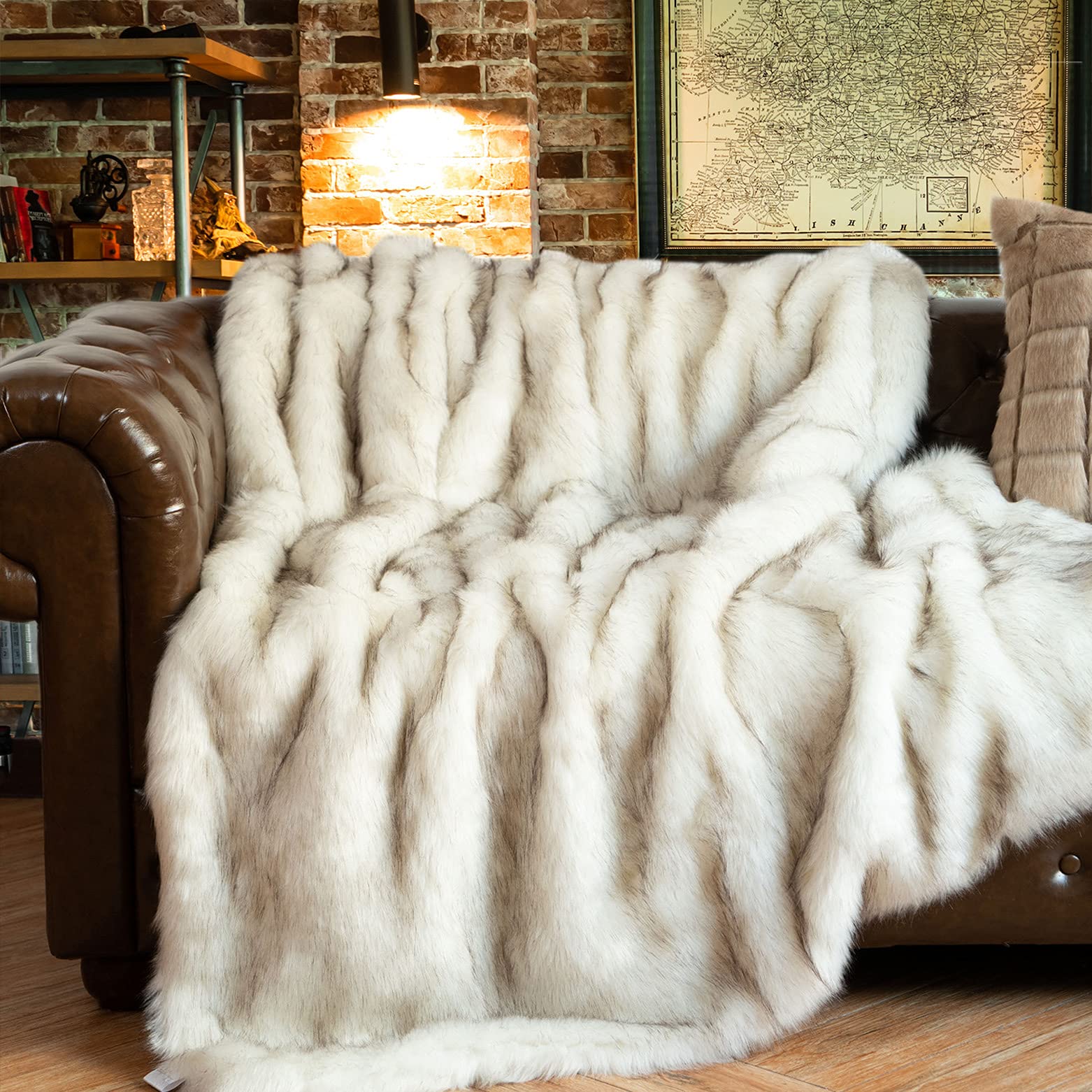 Faux fur is not just limited to clothing, it can also be incorporated into home decor and accessories. Faux fur accents like hats, pillows, throws, and scarves are perfect for adding a touch of glamour and sophistication to any outfit or home. This article explores the variety of faux fur options available for home and accessory decor, including faux fur hats, pillows, throws, scarves, and shawls.
Faux Fur Hats
Faux fur hats are a stylish and cozy accessory that provides warmth and glamour to any winter outfit. These hats come in a range of styles and colors, including pom-pom beanies, trapper hats, and berets. The options available are perfect for adding a touch of luxury to your winter wardrobe. Faux fur hats are also a great alternative to real fur, making them a popular and ethical choice for fashion lovers.
For a casual and chic look, pairing a faux fur hat with a sweater and jeans creates a relaxed yet stylish outfit. A classic pom-pom beanie in a neutral color pairs well with a chunky knit sweater and high-waisted jeans. For a more formal and elegant look, pairing a faux fur hat with a wool coat and boots creates a winter wonderland look. A trapper hat with a faux fur lining adds an element of luxury to a wool coat and tall boots, making it perfect for a formal event or a night out. Faux fur hats are a must-have for any winter wardrobe, providing warmth and style to any outfit.
Faux Fur Pillows
Faux fur pillows are a stylish and cozy addition to any home decor. These pillows come in various sizes and colors, ranging from classic neutral tones to bold and bright hues. Faux fur pillows are perfect for adding texture and warmth to your living room or bedroom. They provide an element of luxury to any space and make a great alternative to real fur pillows.
Adding faux fur pillows to your couch is an easy way to create a stylish and cozy atmosphere. Neutral tones like beige or white create a relaxed and calming vibe, while bold colors like pink or blue add a pop of color and excitement to the room. Mixing and matching different colors and sizes of faux fur pillows can also add a playful and eclectic touch to your decor. Adding faux fur pillows to your bedding creates a cozy and stylish look that is perfect for the winter months. A few faux fur pillows in a complementary color to your bedding can add an element of luxury and glamour to your bedroom. Faux fur pillows provide endless possibilities to create a stylish and cozy home, making it a must-have for any home decor enthusiast.
Faux Fur Throws
Faux fur throws are a great way to add some luxury and warmth to any room in your home. They come in various sizes and colors, ranging from classic neutral tones to bold and bright hues. Faux fur throws are perfect for adding an element of glamour to your living room or bedroom. They provide an easy way to add texture and warmth to your decor without overwhelming the space.
Adding a faux fur throw to your couch creates a cozy and stylish look that is perfect for the winter months. Drape a neutral-toned faux fur throw over your couch to add an element of luxury to your living room. Or, add a bold and bright-colored faux fur throw to make a statement and add some excitement to the space. Faux fur throws are also a great addition to your bedding. Add a faux fur throw in a complementary color to your bedding to create a cozy and stylish look. The soft and warm texture of the faux fur adds an element of comfort and luxury to your bed. Faux fur throws are a must-have for any home decor enthusiast looking to add a touch of glamour and warmth to their space.
Faux Fur Scarves
Faux fur scarves are a stylish and practical accessory that is perfect for adding some glamour and warmth to any winter outfit. These scarves come in a range of styles and colors, including infinity, snood, and wrap-around scarves. The options available are perfect for adding a touch of luxury to your winter wardrobe while keeping you warm and comfortable. Faux fur scarves are also a great alternative to real fur, making them a popular and ethical choice for fashion lovers.
For a casual and trendy look, pairing a faux fur scarf with a denim jacket and leggings creates a stylish and effortless outfit. A classic snood scarf in a neutral color pairs well with a denim jacket and black leggings for a casual and chic look. For a more formal and elegant look, pairing a faux fur scarf with a little black dress and heels creates a sophisticated and timeless look. A wrap-around scarf with a faux fur lining adds an element of luxury to a little black dress and high heels, making it perfect for a formal event or a night out. Faux fur scarves are a must-have for any winter wardrobe, providing warmth and style to any outfit.
Faux Fur Shawls
Faux fur shawls are a perfect way to add some warmth and style to your winter outfit. These shawls come in various sizes and colors, ranging from classic neutral tones to bold and bright hues. Faux fur shawls are perfect for adding an element of glamour to your winter wardrobe. They provide an easy way to add texture and warmth to your outfit without overwhelming the space.
Layering a faux fur shawl over your winter coat is a great way to add some extra warmth and style to your winter outfit. Drape a neutral-toned faux fur shawl over your coat to add an element of luxury to your winter outerwear. Or, add a bold and bright-colored faux fur shawl to make a statement and add some excitement to your outfit. Faux fur shawls are also a great accessory for a night out. Wear your faux fur shawl over your shoulders as a stylish accessory that adds an element of sophistication to your outfit. A wrap-around shawl with a faux fur lining is a great way to add an extra layer of warmth and glamour to your night out look. Faux fur shawls are a must-have for any fashion lover looking to add some glamour and warmth to their winter wardrobe.
Conclusion
Faux fur accents like hats, pillows, throws, scarves, and shawls are a great way to add some glamour and sophistication to your home and accessory decor. Whether you are dressing up or dressing down, there's a faux fur option for every occasion. So, add some faux fur flair to your winter wardrobe and home decor for a cozy and stylish look.
How to Choose the Right Hurricane Lawyer for Your Case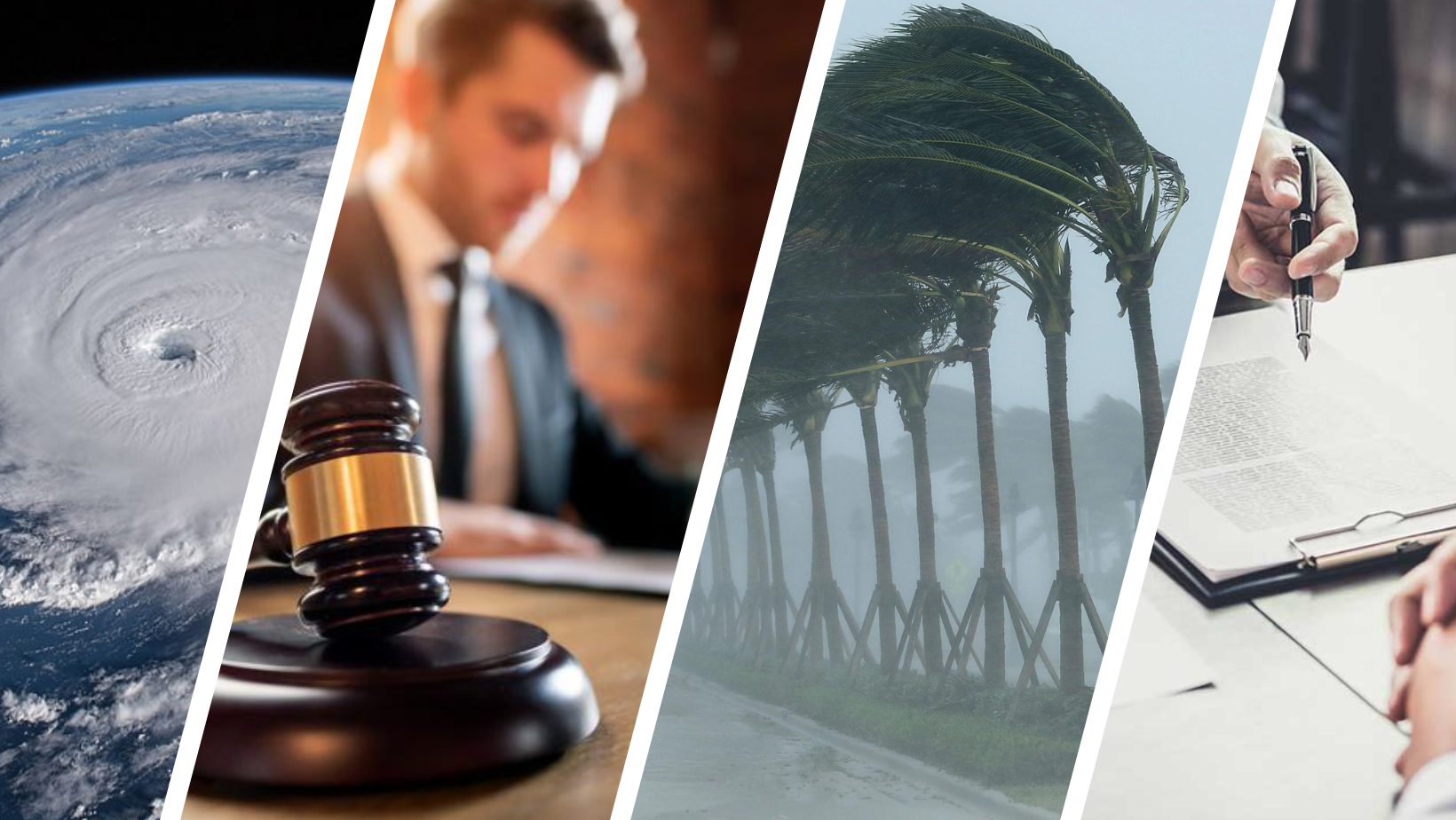 A hurricane can cause a lot of damage. If you are affected by a hurricane, you may need to hire a hurricane lawyer. Not all lawyers are created equal, so it is important to choose the right one for your case. In this blog post, we will discuss how to choose the right hurricane lawyer for your needs.
What to look for when choosing a hurricane lawyer?
Choosing the right hurricane lawyer is no easy task, but it is important to make sure you have one that knows the ins and outs of Hurricane incidents in order to get the best outcome. Make sure they have experience with similar cases and that they are familiar with the laws surrounding your particular situation. It's also wise to do some background digging on any potential lawyers, checking into reviews and the reputation of their firm if possible. Lastly, pick a lawyer who you feel comfortable with – someone whose approach jives with yours and who comes off as motivated and enthusiastic about taking on your case. Remember, there's no guarantee of success, but you want to increase your chances by making sure your hurricane lawyer has all bases covered!
How to know if you need a hurricane lawyer?
If you live in a hurricane-prone area and have been affected by a storm, you may need the help of a hurricane lawyer. The most obvious indicator is if your home (or any other property) was severely damaged during the storm, as these situations can become complex very quickly. Other indicators include whether you're having trouble accessing insurance benefits or feeling overwhelmed by paperwork.
In any of those cases, it might be wise to consult a hurricane lawyer who has experience navigating these types of issues. You won't know for sure until you talk to one – so why not get ahead of the game?
What to expect when working with a hurricane lawyer?
Working with a hurricane lawyer may feel intimidating, but the reality is that many of them are passionate professionals who are determined to help people navigate the legal challenges that can arise from natural disasters.
They can provide you with an honest assessment of your situation, and can advise on what steps should be taken to secure any compensation or damages owed to you as quickly as possible.
Having a knowledgeable lawyer by your side will ensure that all legal documents involved in the hurricane claim process are filled out correctly and efficiently. Plus, they'll do all the legwork for you so that you can simply focus on recovering and getting your life back in order!
Questions to ask your hurricane lawyer
As hurricane season comes up and the weather starts getting wild, it's important to know your rights in these uncertain times. That's why enlisting the help of a professional hurricane lawyer is essential.
When looking for one, some questions worth asking are:
Do you have experience in this area?
What advice would you give following a major storm?
What processes do you use to ensure accuracy and justice?
How much does a hurricane lawyer cost?
For many people, the thought of needing a hurricane lawyer may bring to mind some unseemly Hollywood depictions of a stuffy and overpriced attorney, but you should know that it doesn't have to be that way.
The truth is, the cost for legal help with hurricane claims depends on a variety of factors like the complexity of your case and the experience and reputability of your lawyer.
Many legal professionals charge reasonable fees—it might even seem like they took one look at the weather forecast and adjusted their costs accordingly!
Finding experienced help if you're facing damage or claims resulting from a major storm isn't difficult (or outrageously pricey), so don't be afraid to seek out professional guidance when it comes to this kind of situation.
Conclusion
Picking the right hurricane lawyer is hard – but luckily, we're here to help. With our experienced and dedicated team, we'll make sure you get the best possible outcome for your case.
Still need help finding best hurricane lawyers? Check out this helpful article: Best Hurricane Lawyers in Florida
How To Choose The Right Outdoor patio Furniture?
A complete home is signified by their indoor and outdoor living space in some cases. How you enjoy the moments of good weather with other individuals in the organic settings adds to the experience of a well established living space. This can encompass holiday parties, BBQ's, family reunions etc. Now choosing the right Outdoor patio furniture so you can be the center of all the attention will require you to have a bit of common knowledge under your belt.
In this article we will be covering just that and more so that you are fully equipped to begin your search for the right outdoor patio furniture for your home.
Why Should You Create An Outdoor Patio
There are many reasons as to why a homeowner should look to cultivate their outdoor patio living space. One of the seasons being that it will substantially increase the value of your home. On average most homeowners are able to sell their homes at a 10% increase with outdoor patio furnishings added to their living space.
Moreover, cultivating a backyard oasis is the perfect strategy to become a host for any kind of social gatherings and events. Birthdays, Holiday occasions, or random get togethers are included in these gatherings. It can prove to be a cheaper alternative to going out to bars or clubs and with menial risks in play as well.
How To Cultivate Your Outdoor Living Space
First and foremost, you must take into consideration the physical amount of space that you have in your outdoor area. You will need to leave room so you can easily move around the furniture, pull out chairs, or recline seats back fully. If you have a small porch, you may not be able to fit a full outdoor dining set and will need to compromise on a smaller piece of furniture.
In order to begin furnishing your outdoor living space what you will primarily want to focus on is the space that you have to work with. Take a full measurement of the space you'd like to furnish.
This can help you in the planning or pre planning phase of where you'd like to set up your furniture pieces and ultimately make the process less of a trial and error venture.
You will need 2 different kinds of measurements to depict an accurate sizing of your outdoor living space:
Find the square footage of your deck or yard by finding its length x width of the area.
Find the surface area of your space by sectioning off the space if it is not a perfect square or rectangle and calculate the square footage of each individual section.
Finding the surface area in this regard can help you visualize what pieces of furniture can fit into each section of the outdoor space.
Property Ownership
Depending on whether or not you are the homeowner of your living space can also play a part in what furniture types you use to furnish your patio with.
In most cases where an individual is renting a property it may not be the most ideal solution to furnish their outdoor space with dubious amounts of heavy or large types of furniture. This can potentially be a considerable obstacle if and when the renter decides to move to another home location.
In this situation an alternative would be utilizing smaller or lightweight furniture to furnish this space to minimize the inconvenience of moving the furniture when that day arrives.
Another obstacle some renters face is whether or not certain furniture types and colors are allowed to be used to decorate a living space. There are some landlords who provide restrictions on certain aesthetics in open and visible spaces to protect the integral design of the property as a whole.
On the other hand if you are the owner of your living space then you automatically have many more options as to how you want your outdoor space to be designed. You would essentially have the final say in the type of coloring and furniture types you use to decorate with.
Plan For The Weather
Before furnishing your outdoor living space it is vital that you plan for the weather or climate. Weather plays a big part in determining how long your furniture lasts outside under the sun so it is best to keep an eye open for certain materials that thrive in your weather conditions.
Buying the wrong type of furniture in this case can increase the rate of weathering and deterioration for your furniture so it is best not to sweep this aspect of patio planning under the rug.
For instance for those who find themselves living next to the ocean or other large bodies of water it is best to abstain from furnishing your patio with metal furniture types they are more prone to rust. An alternative for this setting would be to go for synthetic materials or coated wood types of furniture to counteract water damage.
In windier climates it is best to use heavier types of furnishings to avoid your pieces being moved around the space due to the strong winds.
In climates of regular heat, owners should look for furniture types that have lighter hues to avoid attracting the sunlight which will inevitably make the piece too hot to sit on. Lighter colors will also counteract the color fading qualities of too much sunlight that typically occurs in darker and vibrant colors.
Canopies and umbrellas can be put into the setting to counteract the effects of the sunlight but moreover you can opt in for wooden materials as metal and synthetic materials typically tend to get a lot hotter.
Cold Climates
Cold weather also works in deteriorating the materials used in your outdoor patio furniture. Wood can crack when the spring heat rolls back in after being too cold for months and other materials can freeze over to be too cold to sit on.
It is suggested that in periods of extreme cold weather a homeowner properly stores their furniture properly or uses a furniture covering to counteract the cold.
Precipitation
Rain can be the most active factor that deteriorates your outdoor patio furniture. In wooden types of furniture rain will work to soften its structure and in metal the rain will prompt the progress of rust to occur.
In climates where rain is common it is suggested to use synthetic resin built furniture pieces as these are essentially immune to the weathering effects of rain. Moreover, synthetic resin dries incredibly faster than wood or metal frameworks.
Furniture Covers are the best solution in climates with regular periods of rain to protect your pieces.
Buying On a Budget
To avoid any potential disappointments when you are browsing stores or websites for your outdoor patio furnishings you will need to evaluate your intended budget for this project. Depending on what material is used for an individual piece of furniture or patio set heavily correlates to the pricing of the piece.
Most of the time they can be a bit pricey, especially the flashier ones. But all is not lost. There are plenty of classy and beautiful alternatives to giving up an arm and a leg for the teak sofa.
As with most types of furniture, higher quality materials tend to come at a higher price.
Allow yourself to slowly build your dream patio over time. Resist the temptation to go all out at once for a set as this can significantly benefit your funds. Opt- in for the one piece at a time to save yourself a bit of buying power.
Best Season To Purchase Outdoor Furniture
When you are looking for furniture pieces or sets at a discounted price you will want to wait for seasonal offers to occur after the fact. The season in reference is typically after the summer towards the beginning of autumn. In this part of the year deals and discounts are ramped through the industry and you will likely find mahogany furniture at much more affordable price options.
However, if you want the best variety of options, start shopping towards the end of winter. This is usually when stores are getting in their latest shipments for the upcoming designs for spring and summer.
For the most ideal rates and discounts shop for furniture pieces directly after the winter. These dramatic price drops are typically due to distributors receiving their new shipments for the upcoming season and will need to sell off the leftovers from last year to make inventory space as quickly as possible.
Conclusion
Cultivating your home's outdoor patio setting can be an exciting and very rewarding experience for you and family. It represents the awesome future possibilities of endless game nights, BBQ's and other social gathering experiences that just adds a bit more flavor to your life as a whole. We hope this article has aided you in the buying process of what materials to look out for and when to shop the market for your furniture pieces.
Also Read: Is white outdoor furniture a bad idea?