Up 100%: Litecoin Price Sets Q1 Performance Record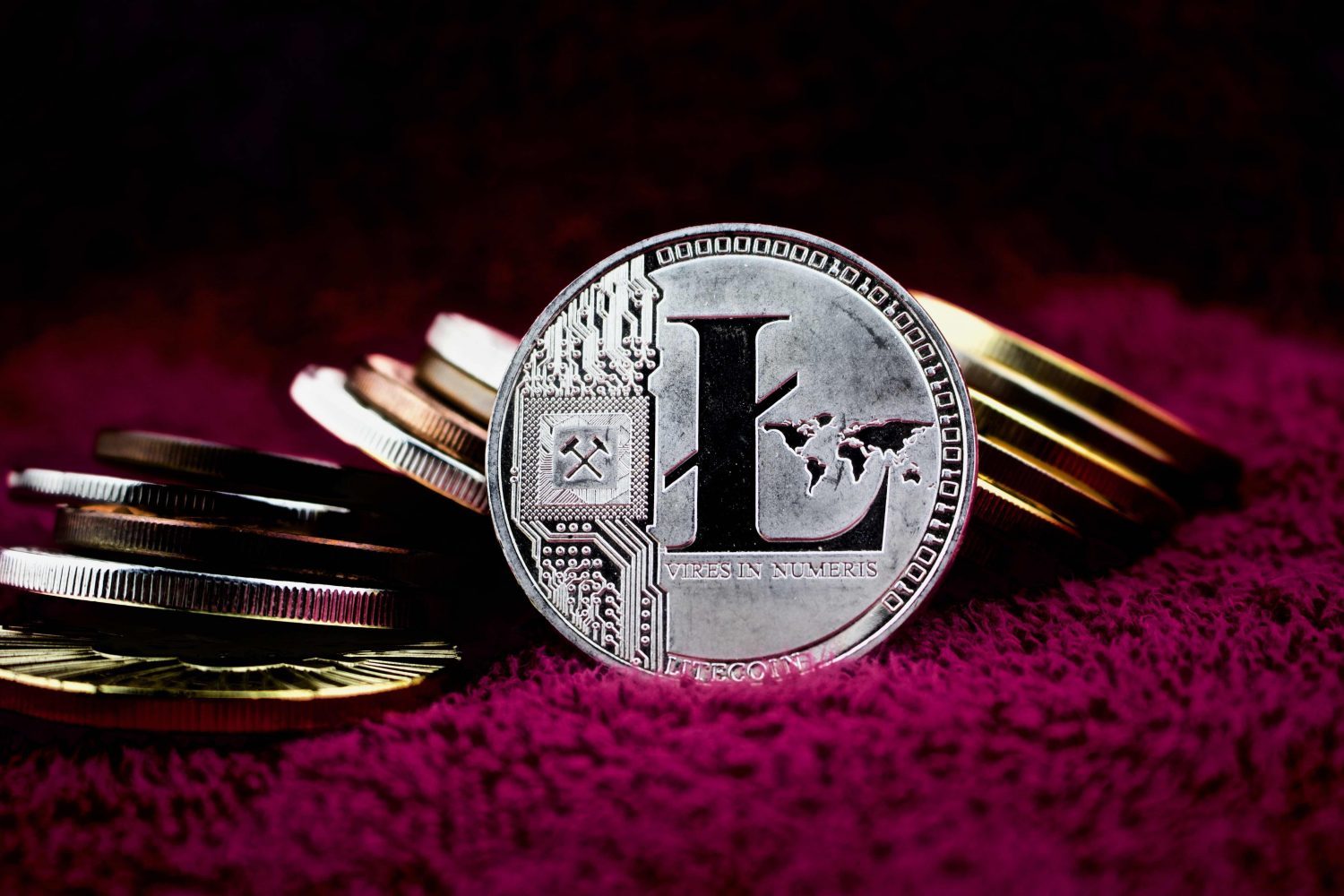 Litecoin's (LTC) price has doubled in the first three months of 2019 to register its best first-quarter performance on record.
The fourth-largest cryptocurrency by market capitalization is currently trading at $61, representing a 100 percent gain on January's opening price of $30. It clocked a six-month high of $64.20 earlier this month, according to Bitfinex data.
Last year, prices had dropped 48.5, 30, 24.6 and 49 percent in each quarter, respectively. The four-quarter losing streak was the second largest on record and saw prices fall by 86 percent.
As can be seen, LTC's 100 percent rise in Q1, 2019, is the biggest first-quarter gain on record.
This the second time that LTC has appreciated in the first three months of the calendar year. The cryptocurrency last rallied in Q1 two years ago.
The stellar gains seen in the first quarter of 2019 could be associated with the mining reward halving, due later this year.
On Aug. 8, the reward for mining on the litecoin blockchain will be reduced from 25 LTC to 12.5 LTC. The shift means miners will be adding fewer coins to the ecosystem after August, possibly leading to supply deficit.
The process is repeated every four years and tends to put a bid under the cryptocurrency at least six to seven months in advance, according to historical data.
For instance, LTC created a long-term low near $1.12 in January 2015 and rose to highs above $8.70 in July before falling back below $4.00 ahead of Aug. 25 – a day when the mining reward was cut in half from 50 to 25 LTC.
With bitcoin rallying 100 percent in Q1, history seems to be repeating itself. So, LTC could rise even further in the second quarter, albeit after a pullback, as technical charts are showing signs of bullish exhaustion.
Daily and weekly charts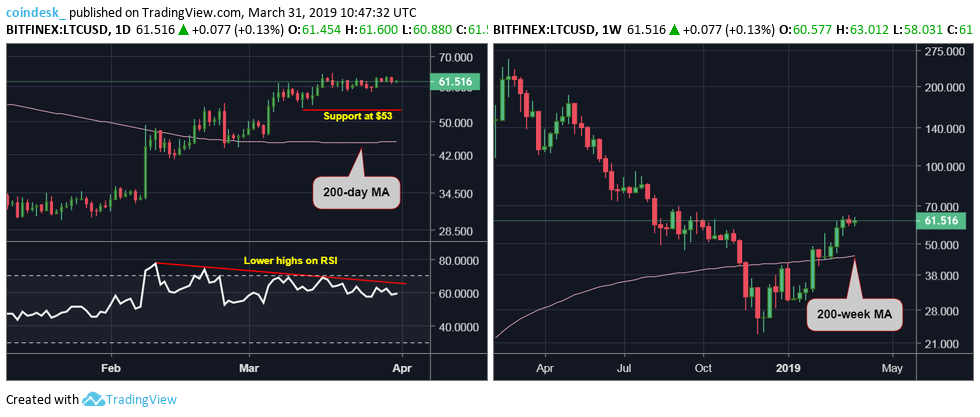 On the daily chart, the relative strength index (RSI) has created a series of lower highs as opposed to higher highs in price. That bearish divergence on the RSI indicates buyer exhaustion and scope for a pullback, possibly to immediate support at $53.00 (March 12 low).
Acceptance below that level would confirm a short-term bearish reversal and open the doors to $45.00, which marks the confluence of the 200-day and 200-week moving average (MA).
On the higher side, a high-volume move above the recent high of $64.20 would revive the bullish view, although that looks unlikely for now, as the longer duration MA studies are still biased bearish.
Monthly charts
LTC seems to have found acceptance above the 10-month MA, currently at $53.60. The average, however, is still trending south, indicating a bearish setup. As a result, further gains, if any, could be short-lived and a sustained rally will likely unfold once the average has bottomed out.
Validating that argument is the fact that LTC consolidated around the 10-month MA for almost a year before entering the bull market in Q1 2017.
Disclosure: The author holds no cryptocurrency assets at the time of writing.
Litecoin image via Shutterstock; charts by Trading View
How to Save Your Business During a Recession
How are you holding up?
I know, these are challenging times for all of us and I'm sure you get tons of emails talking about this ugly virus that's going around the world COVID-19.
Many businesses are taking a huge hit by not having any customers, cutting down their employees and majority shutting their doors. This virus has eaten up some businesses and pooped them right back out.
Especially the ones that were not prepared for the recessional times.
I don't want to go into statistics about how it will affect us locally or globally as you can look out your window or turn on the news for that (for good or bad).
I'm a very optimistic person when it comes to my life and it is sometimes hard to see the silver lining when we are in the middle of unprecedented, crazy times.
But I want you to remember:
Things WILL get better.
This crisis situation won't last forever.
Sure, things will slow down for a bit as we practice social distancing and isolation from the typical way we are used to living our lives.
We all (well most) understand that, in the long run, it's the best course of action to flatten the curve (I know you hate hearing these same words over and over but we need to do it).
During this time of isolation, my plan is to help as many businesses as possible through my content.
Step #1: We need to shift our perspective
As people stay at home, they are spending more time than ever online.
Fact: My sites has seen a 15% increase (1,500 new visitors per day) day after day and it will only get better over the next few weeks and months.
It's the right time to reach out to your audience on social media and show them your empathy as we are in this together.
To bring your community together, create relatable content that shows you care about your customers.
Content that is centered around staying healthy and keeping mental well-being in-check can help you stay relevant.
During this topsy-turvy time, consumers need reassurance and support from the brands that they love.
To weather this storm, you also need to be ready to pivot your business strategy.
If your gym is shut down, why not give your customers an online workout class?
If you run a coffee shop, can you shift to selling bags of ground coffee online instead of hot lattes?
If a seminar or an in-person event gets cancelled, is it possible to move it online?
It's never been more important for businesses to go digital.
Step #2: Search Engine Optimization
As travel is restricted, spend more of your time/budget on writing content. And keep in mind that local SEO has become more necessary now than ever.
Fact: Most companies stop their marketing campaigns during hard times and will lose rankings and lose touch with their customers.  This is NOT a good move!
Being proactive by optimizing your site for SEO and writing content is crucial now to get to the top of Google while your competitors are stagnant.
If you don't want to do the SEO work yourself, you can always hire SEO companies to do it for you while you sit back and oversee their work.
"Go digital" — that should be your mantra for resilience.
Hang in there, we're going to come out stronger.
Also Read: What Does Digital Marketing Agency Do?
Top 10 Best Orlando SEO Companies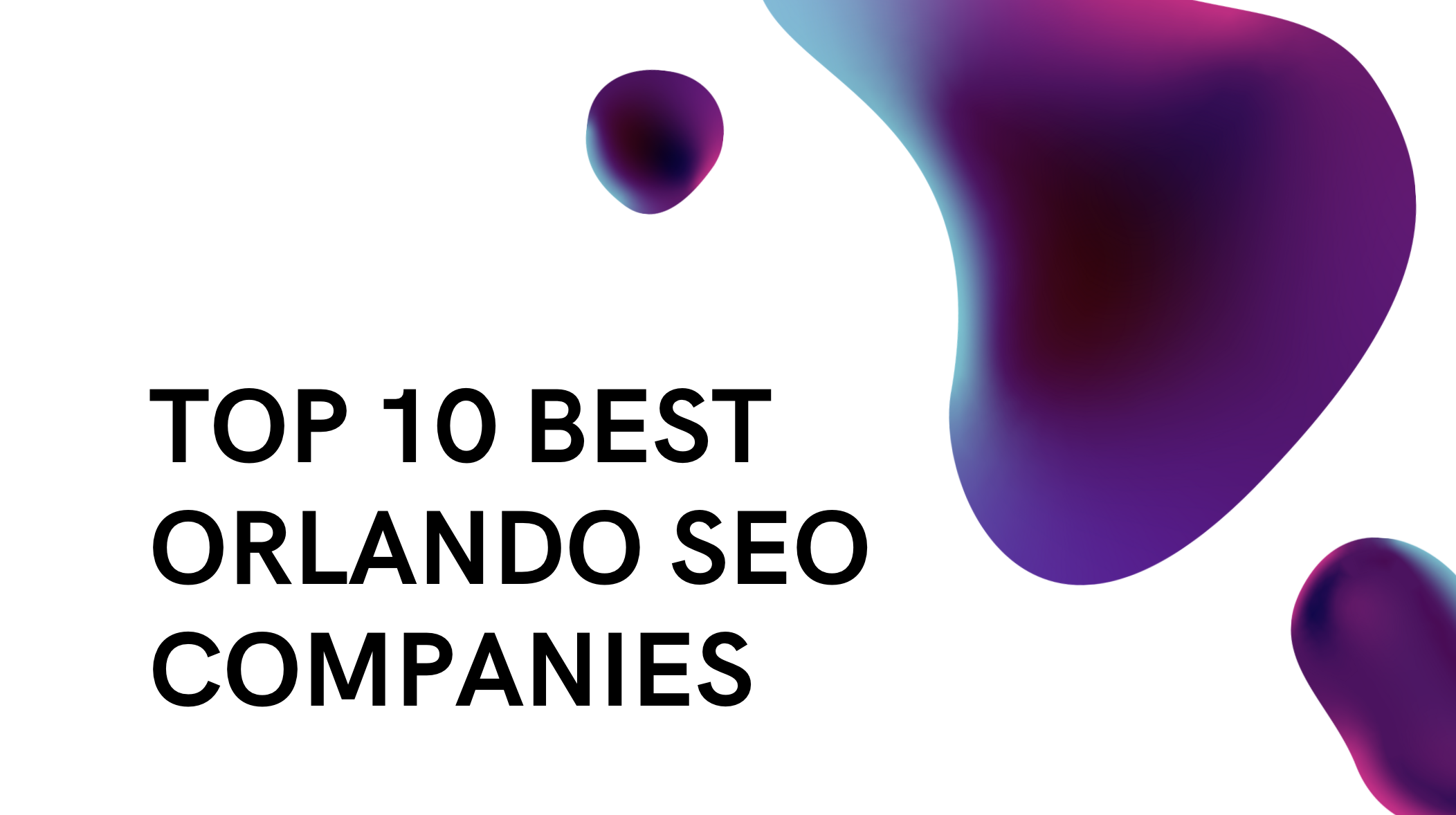 As more businesses are adapting to the fast-moving world of digital marketing, services like SEO have become popular with many companies, with some providers charging outrageous amounts of money for the service while others charge very little. Some of these don't even do any work to deliver their "results". 
You might ask, "How do I choose a good service?" How do you know who offers the best service? Especially in the Orlando area, we recommend researching the company you are trying to sign up with before you hand over your SEO work. Check what they have done. Get on a call with them and ask if they can show you case studies. Not just general studies but ones from your industry, specifically. 
Have they worked with a similar company? What have they done for them? How long did it take them to deliver ROI-measurable results? 
Dive deep and investigate everything about them. Question them and pay attention to what they say. Avoid the ones that try to get you into super long, hard-to-get-out-of contracts. Legit companies will show you what they have done and give you room to breathe and decide whether this is the right strategy for your business. 
Regardless, we have put together a list of 30 SEO companies currently operating from Orlando FL. Follow my tips and choose the most suitable agency for your SEO needs.
Web Daytona is a digital marketing agency heavily focused on search engine optimization. This agency got started back in 2008, with headquarters based out of Daytona Beach FL and has expanded to Orlando, since, bringing their results-driven services to the Orlando SEO market. 
This company offers optimized options for their clients, giving them the opportunity to choose what suits them best. They do contract options, long-term, short-term, or no contracts at all. They do not pressure you into buying their services and they support all their claims with valuable case studies.
How do they proceed with a client? Give them a call, first. They will get a clear understanding of what you need before taking 48 hours to do their research, analyze your website and your competitors and create a custom plan of action, ready to be implemented. Analyze their proposal and, if the price is acceptable, move forward and let them take care of the rest. This agency sends you weekly progress reports so you are updated, every step of the way.
This agency has not been around for a very long time, but long enough to make a big impact within the SEO community. In just two years, these guys were able to rank over 100,000 keywords on the first page of Google and other major search engines. 
As you can see, just from the name, they specialize in search engine optimization. Their team is composed of on-and-off-page strategists and technical SEO professionals, the architects of their optimization. 
This company does not offer long or short term contracts. They are paid, as you go, but ask all their clients for at least 6 months of commitment before they see any major SEO results for their business. SEO By You has their own proprietary tools that allow them to do a deep investigation of your current strategy, your competitors' strategies, and develop a plan to help you match your competition. From there, they'll help you leverage these services, ultimately outranking your competition and securing first page search results.
This is an SEO-focused agency, operating out of Orlando FL. They help businesses build successful online presences through up-to-date SEO practices. This company helps you take control of your Internet presence, as well as ensuring that your customers find your business when they search for your products or services. 
They focus on generating leads through SEO, not just increasing a certain percentage of clicks. Their beautiful landing page can tell you a lot about what type of strategy they build for the businesses they work with. I've got to say, according to some online reviews they help you target and engage your local customers based on valuable data, deep insights and an integrated advertising approach.
Originally based in Sri Lanka, WASHEEN SEO operates out of and brings their services to Orlando and the businesses therein. They are a digital marketing agency, but mostly focused on SEO. They have been involved with SEO since 2015 and have done quite well with ranking their clients. 
Since then, they have built over 800 websites with SEO strategy and generated over $30M+ in revenue for the clients who have hired them to carry out digital marketing and strategic SEO campaigns. 
This agency specializes in the following industries: 
Healthcare
Restaurants
Real estate
Dental
Software
Pool
Bail bonds
Security camera systems
It does all of this, while servicing clients with high quality, on-time delivery and service.
5. Get The Clicks 
This company began their journey back in 2002 as a web development company as The Outer Limit Studios. In 2009, they rebranded and evolved into a digital marketing agency and, two years later, the company became what it is today: Get The Clicks. 
Since then, the company began its journey into the digital marketing arena. This agency has helped over 1,100 businesses of all shapes and sizes throughout the United States, delivering high quality marketing services.
As part of their marketing service, they have hired professional SEO experts to handle their clients' SEO needs. This company does not offer contracts and they have no hidden fees. They give you the full transparency you need as a business owner to feel comfortable while dealing with any third party agency. 
They have a simple approach to your SEO strategy. They evaluate where you are currently ranking. Then they figure out what your competitors are doing to out-rank you. They then build a strategic plan based on your competitors weaknesses and they execute it with full transparency in communication.
6. Web Market Florida 
While this company has not been around for as long as other agencies, they have been around for about 5 years, providing web design and marketing services to their clients. They have completed over 1,000 web design and development projects and have launched over 500 marketing campaigns. Over 700 branding campaigns and 900 search engine optimization projects have been completed. 
This agency has been focusing on SEO and enhancing their strategies to help their clients thrive through search engine ranking. They have specialists with years of experience in the field who are up-to-date with all SEO trends and techniques, and are aware of search engine algorithm updates. This ensures they can keep all their clients' SEO strategies fully furnished.
7. Orlando SEO Group 
This agency has been serving Orlando since 2005 and has done some great work in the SEO field. They are an award winning digital service and have been accredited by the Orlando Business Journal from the results of all the local businesses they have helped. 
They have one goal in mind: to rank your website in the top three search results of the first page, as well as ranking your local business in the top three packs for the relevant keywords your potential customers are looking for to find businesses like yours. 
If your website is not mobile friendly, they can make it user friendly. If your website is not optimized, they can optimize it for you. These guys don't back out from any challenge – they overcome them with knowledge and years of experience, creating different types of SEO campaigns.
8. Orlando SEO World 
This company's focus is on helping you improve your online visibility through search engine optimization strategies. Enhance your website performance and increase your ranks to generate more targeted traffic, increase your sales, and get better ROI on your marketing investment. 
Orlando SEO World was founded in Orlando FL and has an office operating from Winter Park, serving greater central Florida. They have been there since the early days of the Internet and have served thousands of businesses, since. 
They can truly help you put your company in front of your audience and gain a competitive advantage over your competition. They give you a free website analysis and free proposal to work with them. 
9. SEO CFL Expert 
This Orlando based SEO agency specializes in SEO across various industries. They help businesses strategically optimize their websites and their online presence. They create custom campaigns that help local businesses reach local targeted customers. 
They have a team of digital marketing experts that have in depth knowledge and experience in the SEO industry. It took them years to test and bring their professionals to the point where they are today. All their strategies will be geared towards your business to gain maximum exposure online and they only work with limited amounts of clients so they can ensure your company's success is their priority.
It is unknown exactly how long this SEO company has been serving the Orlando area but their website has been around for over three years. This company's experts are fully focused on search engine optimization. 
This company clearly understands how search engines, rankings and algorithms work and are willing to do everything in their power to help businesses outrank their local competition. Their focus of SEO services are on-page optimization, off-page optimization, technical SEO and search engine marketing through pay-per-click advertisement. 
Conclusion
These are the top 10 Orlando SEO companies in operation right now. If you are looking to hire one, you have plenty to choose from, and the talent is all right there. I do recommend researching these companies yourself, analyzing their websites and seeing where they rank when you search for the following keywords in Google or other search engines: 
Orlando SEO
Orlando SEO Services
Orlando SEO Company
Orlando SEO Agency
If any of these companies do not show up on the first page or top three search results of Google, you might not want to work with them. An SEO company that claims they can rank you should not have a problem ranking themselves. At the end of the day, it is a case study they can show you to close the gap, gain your trust, and show that they are the right guys to work with.
Top 10 Best Paving Companies In Daytona Beach FL.
Here are the 10 best paving companies servicing Daytona Beach FL.
Rockwell Construction Services
P&S Paving
Halifax Paving
D & W Paving
Duval Paving
Pavemax
E & H Paving
M & S Asphalt Paving
ACET Recycling
The Alternative
Rockwell Construction Services (RCS) is based out of Daytona Beach, Florida. Provides professional paving and construction services throughout the Volusia County area, they make quality workmanship their number one priority.
With a full-service approach to construction and paving, Rockwell has it all. The scope of their work includes:
Rockwell Construction Services Reviews:
Social Media Presence:
► Contact Rockwell Construction Services
P&S Paving, Inc. has grown to the point where they work major highway construction and earthwork projects. They're also at home onsite for small driveways and parking lots, producing large amounts every hour, in a cleaner, more efficient manner.
P & S Paving Reviews:
Social Media Presence:
Halifax Paving
Halifax Paving, Inc. has construction experience building roads, airports, and highways. Their portfolio is big enough to offer most services, from bike paths to highway work, subdivisions and apartment complexes.
Halifax Paving Reviews
Social Media Presence:
D & W provides asphalt paving, patching and site work in central Florida's Volusia, Flagler, St. Johns, Seminole and East Marion Counties. With Grading, Excavating and Filling, Base Work, Asphalt Paving, and Asphalt Patching in their portfolio, they're one not to miss.
D & W Paving Reviews
Social Media Presence:
Duval Paving, LLC has been in operation since 2011. Paving new driveways and parking lots, repaving, and sealing commercial and residential properties is right there in their wheelhouse.
Duval Paving Reviews
Social Media Presence:
PaveMax uses industry best practices and green technology to use in their projects. With a focus on meeting their customers' needs, their work doesn't suffer in spite of their relatively quick pace.
Pavemax Reviews
Social Media Presence:
E & H Paving LLC brings more than 35 years of experience in the state of Florida to the table in their outstanding asphalt services. Look out for them in residential and commercial spaces.
E & H Paving Reviews
Social Media Presence:
M&S Asphalt Paving is a full-service asphalt paving company offering quality services, driveway work, parking lots, roads, businesses, and commercial parking for a range of operations.
M & S Asphalt Paving Reviews
Social Media Presence:
► Contact M & S Asphalt Paving
ACET Recycling offers recycling services to site development projects across the state of Florida. Consider it a sort of one-stop-shop for site services of different types and sizes.
ACET Recycling Reviews
Social Media Presence:
The Alternative
The Alternative provides paving services in Daytona Beach FL.
The Alternative Reviews
Social Media Presence:
Pave The Way In 2020
For your paving and construction projects, the businesses listed in today's article offer a range of great consultations and full service portfolios. Reach out to a few of them, make a connection with one, and happy paving!
For more great articles like this, make sure to check out some of our other blogs, as well!