When Blockchains Go Down: Why Crypto Outages Are on the Rise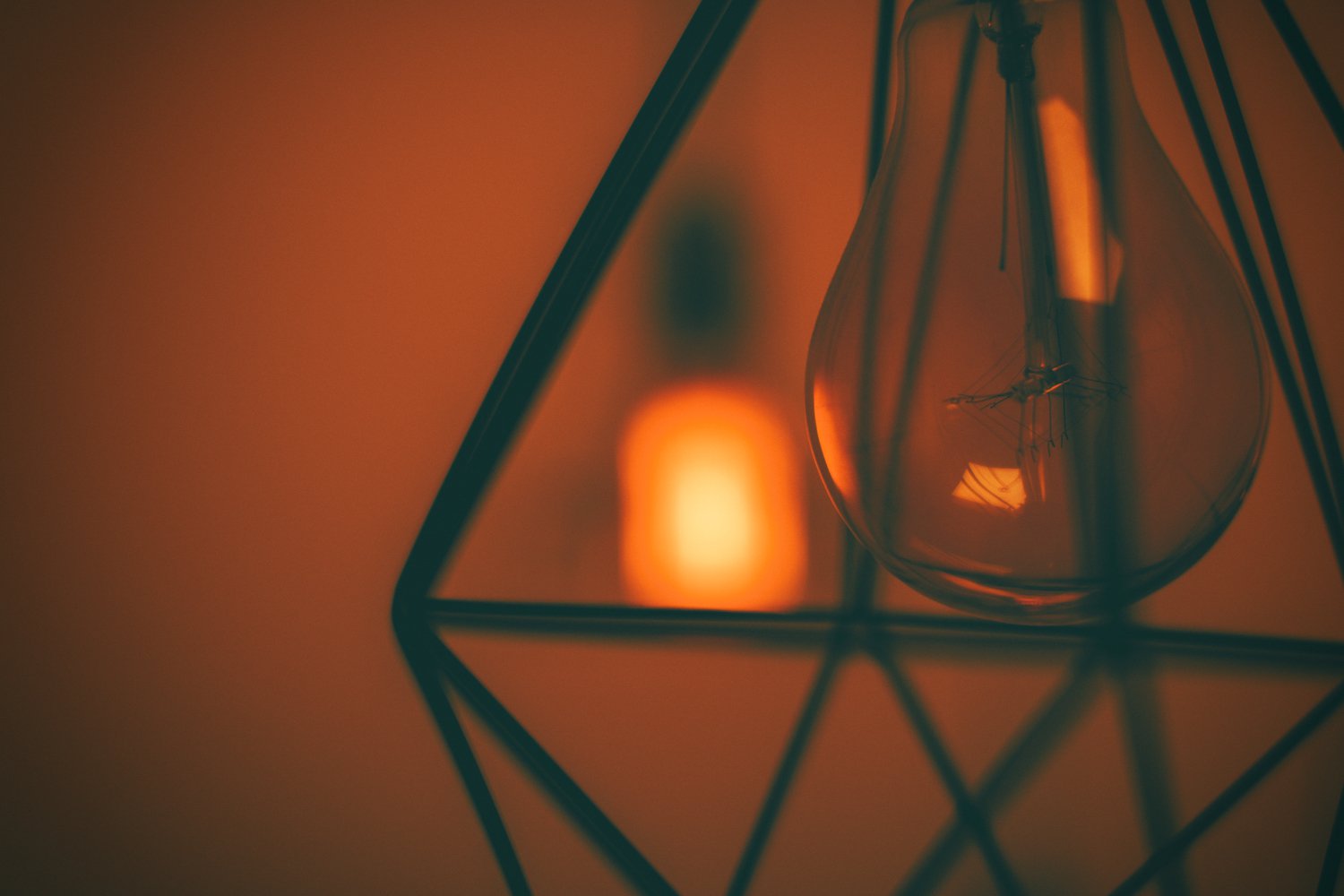 Berniesanders (not to be confused with former presidential candidate and Vermont Senator Bernie Sanders) is an institution on blockchain-based blogging platform Steemit.
Steemit allows content creators to earn crypto – at least, crypto that's native to the Steem blockchain, of which there are three – for popular posts. While recent successes include waffle recipes, romantic fiction and crypto punditry, berniesanders gets a pretty steady paycheck (about $30 at a time) for his single sentence, self-described "shit posts."
A recent sampling: "Are you having fun? I'm having fun." ($60), "I'm on a boat!" ($31), "Show me your shoes." ($30) and "How many comments can a shit post get?" ($263 and 319 comments).
But for a few hours on September 17, the Steemit community was deprived of berniesanders' wisdom.
On that day, Steemit became unavailable when Steem suffered an outage and stopped adding new blocks. The blockchain and the apps on top of it had gone dark.
Steem's outage, the company explained, was related to an upcoming hard fork update. The code for the fork was being run by some nodes in advance, and as such, these nodes split off onto an incompatible chain when certain safeguards failed. The nodes accidentally hard forked the network early, and as a result, the nodes couldn't come to consensus on new blocks.
"The blockchain was the piece that was halted in this case," Ned Scott, the founder and CEO of Steemit, told CoinDesk. "But it caused a ripple effect, a domino effect on all the apps built on top."
For the Steem blockchain, that's 400 applications, according to Scott.
And several of those applications likely had confused, worried and sometimes angry users wondering why they couldn't interact with their favorite blockchain-based tools. Case in point, once the Steemit network began functioning normally again, berniesanders returned with a post tagged "testingshitsteem," "amateurshitdevs" and "deadchain."
That's perhaps a bit harsh.
Sure enough, other users weren't quite so critical. A Steemit user going by "alphasteem" (she of the waffle recipes) said:
"I guess that's the way things work with new technology."
The only problem is, that's not how things are supposed to work with this particular piece of new technology. One of the most frequently cited advantages of blockchain networks is that they suffer zero downtime – or close to it.
For example, there's a website dedicated to tracking bitcoin's uptime since its launch in January 2009: 99.992559576 percent, at the time of writing. And the Ethereum Foundation describes the network's applications as running "exactly as programmed without any possibility of downtime, censorship, fraud or third-party interference."
In recent months, though, major blockchain networks have seen downtime, and the trend has some people wondering, WTF?
More outages
The incident on the Steem network is not the only recent example of a blockchain going down (in fact, it's not the only time Steem has gone down in recent months).
In March, Neo's blockchain was temporarily halted. This can happen, the project's senior research and development manager Malcolm Lerider initially explained, "when a consensus node gets disconnected during the consensus."
In response to pointed criticism – to the effect that, if just one of only seven consensus nodes on the Neo network can pause the chain by going offline, Neo is highly vulnerable – Lerider stepped that response back a bit. He said Neo could handle the loss of a consensus node, and that the circumstances leading to the incident were more complicated.
A few months later, the EOS blockchain also saw the production of new blocks halted for nearly five hours.
According to Thomas Cox, who at that time was the vice president of product at Block.One, the company behind the EOS protocol (he's since left the company), the deferred transactions weren't being checked correctly, which led to a "weird state" and "prevented further blocks from being created."
This incident occurred just a couple of days after the EOS network went live in June.
Federated and delegated
These examples raise the question of why, nearly a decade into the existence of blockchains, the promise of zero downtime is starting to show cracks.
The answer may have to do with the emergence of new ways of achieving consensus: the process by which all the participants in a blockchain system come to agreement on the state of the network.
In bitcoin, ethereum and other proof-of-work (PoW) systems, the way consensus is achieved makes it extremely unlikely that a network will come to a halt – even if a high number of nodes drop off.
Speaking to this, Riccardo Spagni, project lead at monero (a proof-of-work cryptocurrency), told CoinDesk:
"PoW can handle things like the network partitioning and coming back together after some time. It's incredibly robust."
In contrast, a newer method – versions of which Neo, EOS and Steem all employ – designates a certain set of specialized nodes to determine the state of the network. Rather than "mining," these nodes come to agreement through quicker and less energy-intensive processes, enabling faster and cheaper transactions than bitcoin or ethereum.
These systems are broadly known as federated or delegated protocols, with more specific labels applying based on the exact cryptographic methods involved: delegated Byzantine Fault Tolerance (dBFT) for Neo and delegated proof-of -stake (DPoS) for EOS and Steem.
Neo's Lerider disputed the idea that federated blockchains are more susceptible to downtime in general. "Different consensus algorithms may be used in a federated chain," he told CoinDesk, and "to know which ones that have potential to go down," it's necessary to look at the specific implementation.
Broadly, though, delegated consensus has brought something new to cryptocurrency: the potential to scale enough to accommodate use cases that only centralized providers were previously able to handle. For instance, Steem and EOS can support millions of transactions per day, according to the website Block'tivity.
Yet, at the same time, these new protocols have reintroduced a foible of centralized providers to the world of blockchain: downtime. When key nodes in a federated system go down or fall out of sync, the entire network can grind to a halt.
Accessibility or consistency?
That's not to say these systems are necessarily inferior to traditional proof-of-work, however.
There is an important tradeoff at work, according to Eric Wall, blockchain and cryptocurrency lead at the Swedish fintech firm Cinnober.
"All distributed systems are fundamentally limited by the CAP theorem," he told CoinDesk.
According to this theorem, which is often cited in discussions of blockchain networks, a given system can only optimize for two of three characteristics: consistency, availability and partition tolerance (hence the acronym "CAP").
Although, in reality, the range of choices is narrower. Partition tolerance – the ability to run a blockchain over a network that loses some messages, as the internet does – is "non-negotiable," said Wall. So engineers can either favor accessibility, as in bitcoin and ethereum; or favor consistency, as in EOS, Steem and Neo.
Wall described what these options look like in practical terms, saying, "Many federated systems will simply halt in contingency situations, often requiring manual intervention to start running again. Bitcoin, on the other hand, will typically not halt, but instead bitcoin forks into two blockchains for a short period of time a couple of times a month."
In other words, from the user's perspective, the bitcoin network may never go down, but there's no guarantee that a user hasn't found themselves on a fork that will eventually be abandoned in favor of a canonical chain.
Most of the time, Wall continued, bitcoin's lack of consistency isn't a big deal. The network "does have eventual consistency," he said, "which comes from the fact that the forks resolve themselves automatically after a short while."
He added, "So while Bitcoin is not a true CAP system, it's practically as good as one."
Then again, certain incidents have shown that favoring availability over consistency can get blockchains into trouble. Steemit's Scott pointed to an incident in March 2013, when bitcoin forked in what Vitalik Buterin – then a journalist – called "one of the most serious hiccups that we have seen in the past four years."
Echoing that, Wall suggested that such incidents may be an argument for consistency-favoring "CP" systems over accessibility-favoring "AP" ones:
"Two conflicting forks are a much bigger danger to the network than a single halted one."
Showing off scars
What might seem notable here, though, is that bitcoin hasn't suffered a similar incident since 2013, while younger networks continue to experience "hiccups."
"The reason why these bugs have been more prevalent in federated systems than in PoW-based systems recently boils down to the fact that the Bitcoin codebase is more battle-tested, more stringently vetted and of superior quality than its federated counterparts," Wall said.
Indeed, when the oldest dPOS blockchain, Bitshares, launched in 2015, bitcoin had already been live for more than six years.
But the younger networks might well catch up. "Steem is now a very battle-hardened blockchain," Scott said following the recent outage.
"I don't look back and say there weren't bumps in the road," he continued. "I look at those bumps and bruises as testament to our strength and resilience and our drive for innovation."
Steem still plans to go ahead with the planned hard fork update – its 20th – on September 25.
It is also notable that, grizzled veteran though it may be, bitcoin narrowly avoided terrible consequences from a severe bug discovered this week, which could potentially have taken down large swathes of the network for a relatively low cost.
Speaking to this, Zooko Wilcox, founder and CEO of the Zcash company (zcash, like bitcoin, is a proof-of-work cryptocurrency), told CoinDesk that at the end of the day, no network is perfectly safe.
He concluded:
"There is a risk of software failures taking down any software system, including any blockchain such as Bitcoin, Ethereum or Zcash."
Light image by Artur Matosyan on Unsplash
The leader in blockchain news, CoinDesk is a media outlet that strives for the highest journalistic standards and abides by a strict set of editorial policies. CoinDesk is an independent operating subsidiary of Digital Currency Group, which invests in cryptocurrencies and blockchain startups.
Top 10 Best Paving Companies In Daytona Beach FL.
Here are the 10 best paving companies servicing Daytona Beach FL.
Rockwell Construction Services
P&S Paving
Halifax Paving
D & W Paving
Duval Paving
Pavemax
E & H Paving
M & S Asphalt Paving
ACET Recycling
The Alternative
Rockwell Construction Services (RCS) is based out of Daytona Beach, Florida. Provides professional paving and construction services throughout the Volusia County area, they make quality workmanship their number one priority.
With a full-service approach to construction and paving, Rockwell has it all. The scope of their work includes:
Rockwell Construction Services Reviews:
Social Media Presence:
► Contact Rockwell Construction Services
P&S Paving, Inc. has grown to the point where they work major highway construction and earthwork projects. They're also at home onsite for small driveways and parking lots, producing large amounts every hour, in a cleaner, more efficient manner.
P & S Paving Reviews:
Social Media Presence:
Halifax Paving
Halifax Paving, Inc. has construction experience building roads, airports, and highways. Their portfolio is big enough to offer most services, from bike paths to highway work, subdivisions and apartment complexes.
Halifax Paving Reviews
Social Media Presence:
D & W provides asphalt paving, patching and site work in central Florida's Volusia, Flagler, St. Johns, Seminole and East Marion Counties. With Grading, Excavating and Filling, Base Work, Asphalt Paving, and Asphalt Patching in their portfolio, they're one not to miss.
D & W Paving Reviews
Social Media Presence:
Duval Paving, LLC has been in operation since 2011. Paving new driveways and parking lots, repaving, and sealing commercial and residential properties is right there in their wheelhouse.
Duval Paving Reviews
Social Media Presence:
PaveMax uses industry best practices and green technology to use in their projects. With a focus on meeting their customers' needs, their work doesn't suffer in spite of their relatively quick pace.
Pavemax Reviews
Social Media Presence:
E & H Paving LLC brings more than 35 years of experience in the state of Florida to the table in their outstanding asphalt services. Look out for them in residential and commercial spaces.
E & H Paving Reviews
Social Media Presence:
M&S Asphalt Paving is a full-service asphalt paving company offering quality services, driveway work, parking lots, roads, businesses, and commercial parking for a range of operations.
M & S Asphalt Paving Reviews
Social Media Presence:
► Contact M & S Asphalt Paving
ACET Recycling offers recycling services to site development projects across the state of Florida. Consider it a sort of one-stop-shop for site services of different types and sizes.
ACET Recycling Reviews
Social Media Presence:
The Alternative
The Alternative provides paving services in Daytona Beach FL.
The Alternative Reviews
Social Media Presence:
Pave The Way In 2020
For your paving and construction projects, the businesses listed in today's article offer a range of great consultations and full service portfolios. Reach out to a few of them, make a connection with one, and happy paving!
For more great articles like this, make sure to check out some of our other blogs, as well!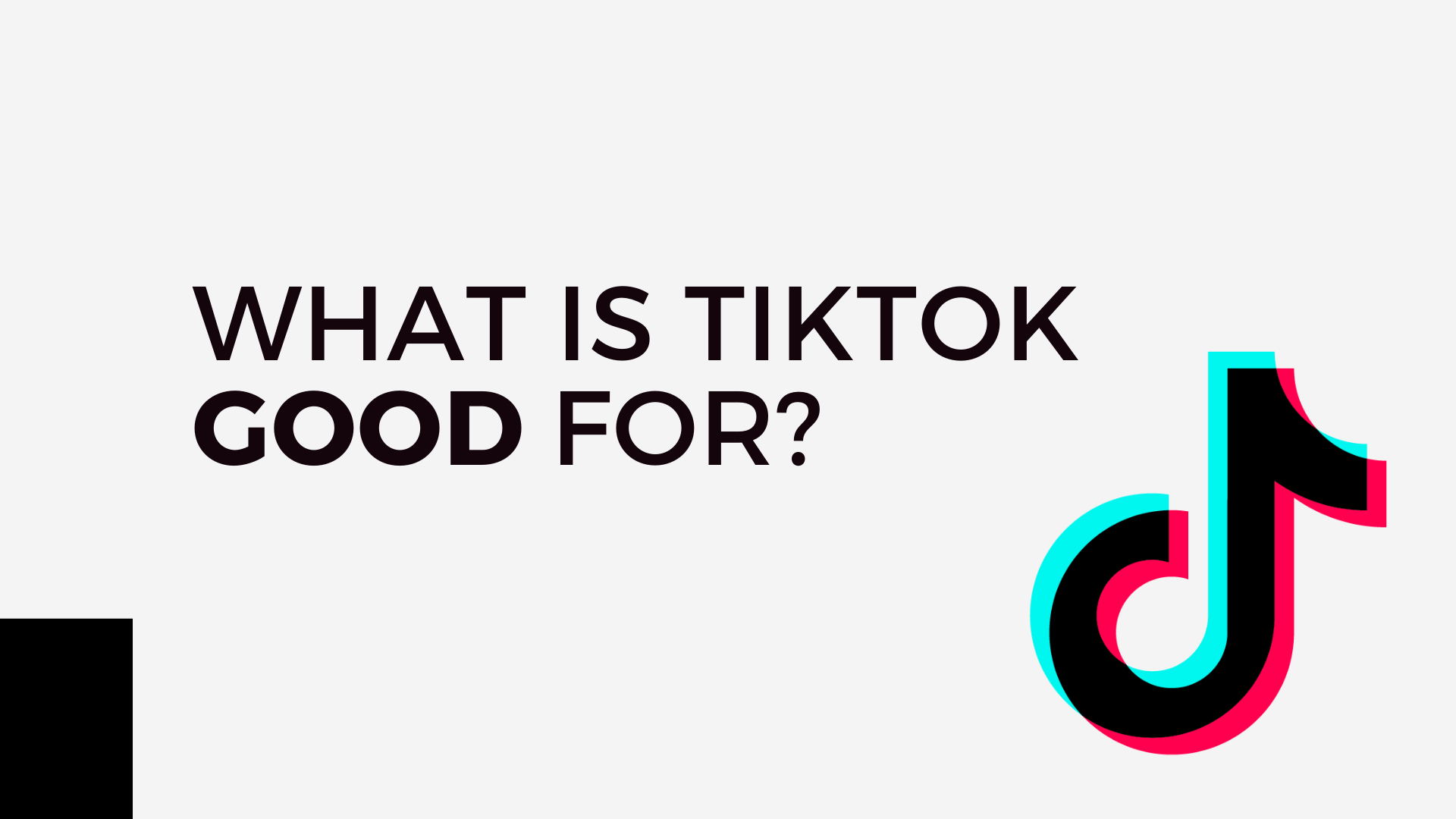 TikTok is great for entertainment, getting famous, making sales, staying connected with current trends, networking with brands and influencers, and encouraging creativity.
The app was originally called Musicl.ly and didn't experience much success until late 2017, when technology development company, ByteDance, acquired the app for $800 million. They launched it the same year and made huge modifications, turning the original app that was basically for teens to edit their videos of singing, dancing, and lip-syncing into a social platform that racked up over 500 million active users within just two years.
The app has surpassed the daily downloads of all the big guys in the field and was the most downloaded app in the AppStore in 2018. While this app is not showing any signs of slowing down, it's time to take advantage of the momentum and benefit from its outstanding features.
TikTok Is Great For Killing Time
The one thing every social media platform struggles with, eventually, is boring content. This is the same reason why many people are "Team Facebook" or "Team Snapchat" or "Team Grindr"…you know. Those who get on Facebook don't really go on Snapchat, and those who get on Snapchat don't really get on Instagram or Facebook. This applies to most other social media platforms, as well.
All of these platforms are losing engagement, while TikTok focuses specifically on engagement. There is no boring content, here. It's all entertainment.
Let's say you are scrolling through the homepage and you find a boring video. You can just scroll once more and there will be a video you find enjoyable. When you are on a lunch break or trying to kill time, TikTok is the only app you need for your daily entertainment. Videos between 15 and 45 seconds long, and content is super engaging.
Almost Anyone Can Get Famous
This app has made more people's dreams come true than Disneyland. You see, back in the day, when you wanted to get famous, you had to network, take acting classes, do some modeling, go through dozens of interviews and, most importantly, you had to know someone in the industry.
Now, things are different and as the world progresses forward with technology it is easier to be discovered than ever. Other giant social media platforms like Facebook, Snapchat, Instagram, Facebook, and Twitter did a great job giving ordinary people the ability to get noticed. And a lot of people did but, eventually, it got harder and harder for new talents to rise up.
TikTok, on the other hand, took things to a-whole-nother level. They created a new culture on the platform with trendy challenges anyone can do, hashtags that let everyone be discovered, and so much more. You could have no talent and still go viral. You could be the most boring person on the earth and still trend. Trust me: I've seen plenty of dead boring TikTokers.
I mean, why not look at my 70-year-old grandfather? Grampa Charles ended up racking up 1.3 million followers in just a few months, and his posts are…well, they're special.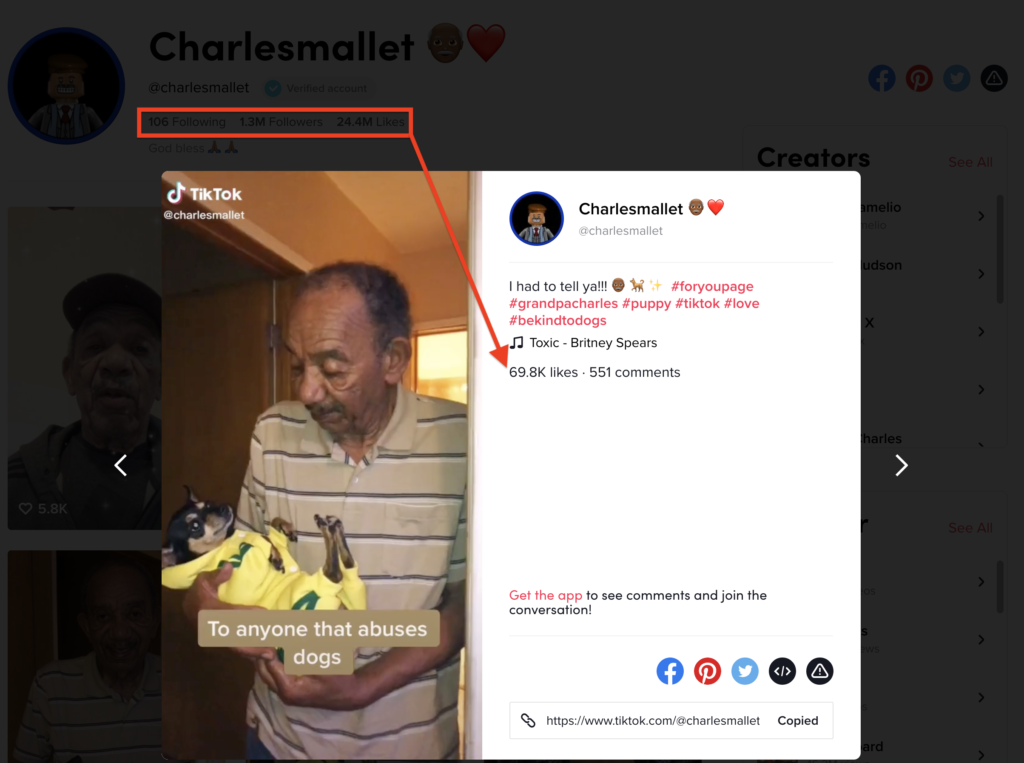 If he can do it, trust me: you can too. Charles barely knows how to use his iPhone 6, and he's more famous than you. Think about that for a second.
TikTok Is Great For Making Sales
Not only is TikTok great for killing time during that 10-minute smoking break, but how about turning those 10 minutes into creating a 30-second TikTok video that could potentially reach 1,000,000 views?
Ok, let's keep it real now…
…maybe 50,000. Which is not so far fetched, with TikTok's algorithm. That is another topic, though (specifically how to get more followers on TikTok). Take Gary Vela, for instance: this online marketer recently shared tips on how he generated over $7,000 in sales using TikTok, in his article "How to use TikTok to generate more sales".
So, next time you are on your break, make it productive and remember: if you are wondering what TikTok is good for, it could potentially be one of the newest ways to increase your bottom line or make that extra cash to pay that insurance bill.
TikTok Keeps You Up-To-Date With Current Trends
From time to time, there are a lot of things that trend on other social media platforms and, sometimes, we only find out about those trends long after they were a thing.
Ladies and gentlemen: TikTok has changed that. You now no longer have to feel left out. When something is trending, you know, because it's the first thing you'll see on your home page. Not ten days later, once all the cool kids have had their fun already. Right now, where all the not cool kids can get in, too.
You'll see your buddy doing it, right there in your feed, where you can quickly catch up with everything. TikTok keeps you relevant in today's world.
Awakening The Creativity Within
There are many people online who think they have no talent. Go through Quora or Reddit or any social media platform, and you will see many people saying they "just can't do it". What they actually mean is that they don't know how to do it. Yet.
Luckily for them and you and everyone else, anyone can "do" TikTok. Anyone can make a TikTok video. Anyone can pick a song. Most importantly, the great thing you will love about this app is that it gives you a creative framework you can play around with.
You make a video you think might not is all that good and, next thing you know, the final result after edits and everything else, is a whole new animal. This application truly inspires a new character inside you, even after just one video. You can easily develop the motivation to make a second, and then a third, and fourth. Before long, it's game over: you are officially a TikTok master.
Connect With Brands and Influencers
This is especially good for businesses. You can easily connect with other brands and reach out to influencers to collaborate. It has never been easier, and the playing field has never been more level.
Think you're just getting started out on TikTok, so who would want to speak to you? Some of the biggest names in the world are "just getting started out", here. They're all discovering this exciting new thing at the same time as you, and they're looking at what you're saying.
Reach out to influencers. Do duets with celebrities. If Twitter was the start of the rich and famous rubbing shoulders with everyday people, TikTok is the next step in that evolution. Don't be scared. The world is waiting to hear from you.
Previous Article: How to Become a Legal Citizen of the United States? Spoiler Alert: It Involves A Baby.
Snake Safety While Hiking – How to Protect Yourself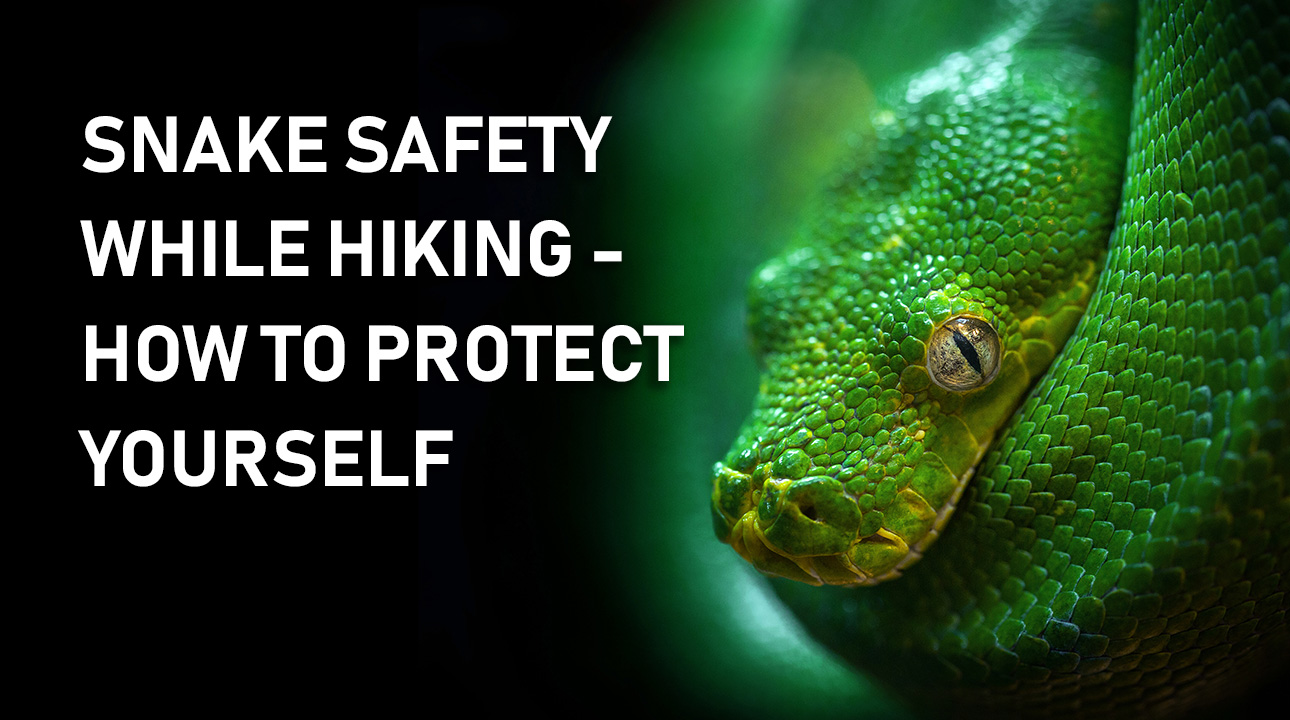 Hiking is a great way to exercise, get out into nature and breathe the clean air and take in an adventure. But when this adventure stops you in your tracks, and it will, if it's a snake, you had better be prepared.
While a snake encounter is highly unlikely, and a snake bite is even more unlikely, there are some things you should know before stepping into those woods.
DIY Research
If you're in unfamiliar territory, especially in certain times of the year, you may want to do your research on what native snake species you may encounter. While there are venomous and nonvenomous kinds of snakes, you'll want to find out what lurks in your neck of the woods. The most common venomous snakes in the United States include coral, water moccasins, copperheads, and rattlesnakes. A park ranger or local guidebooks should easily tell you what to look out for.
Hiking Times Matter
Snakes are cold-blooded animals and seek heat typically during early morning and late evening. During the day, they are typically found under rocks, leaves, and timber trying to seek protection from the midday hottest heat.
If you hear or see a snake, remember, they are just as afraid of you as you are to them. Step away and do not engage to get any closer. They will be set to defend themselves however they see fit to.
Safety Tips For Your Safety:
Give snakes space. 
Allow space between you and the snake. Do not startle it by moving quickly. If the snake doesn't move, give it a few minutes and walk around it slowly. If you must on a narrow path, stomp your feet to get the snake to move. Rule of thumb, stay at least twice the body length away, as striking distance is half its body distance.
Watch where you step in the wild.
Just always be aware of your surroundings and your footing. Snakes are very good at hiding under things, camouflaging them from the naked eye.
Use protective clothing.
Feet, ankles and lower legs are the most bitten areas on the body from a snake. Wearing long pants and having good hiking shoes should always be a prerequisite to a good, safe hike.
Use trekking poles to maneuver overgrown trails.
These come in very handy when you approach an overgrowth area of greenery. You never know what may be in that so using your trekking pole to comb through first is highly recommended. Never poke or prod a snake with anything, especially these poles.
Also Read: 6 Awesome Camping Hacks Explained
If Case Of A Snakebite:
First and foremost, do not panic. Try to determine the species of snake that bit you. If possible, take a picture for identification. If nonvenomous, usually the most that you will need to do is wash the site and put an antiseptic on it. If you have a first aid kit handy, the alcohol wipes would suffice. If in fact a venomous bite, do not make a tourniquet or try to suck out the venom from the wound. Instead, relax to slow the blood flow and heart rate from spreading the venom to other parts of your body. Getting to the nearest medical facility as soon as you can, with an accurate description of what kind of snake it was, is crucial.  
Much of snake safety is common sense. Never hurt or harm nature unless in a dire event that would call for it. Nature should be looked at, admired, and be left alone. Enjoy your hike!
Attention: If you are into hunting you might want to check out E2 Armory, they carry some of the highest quality AR 15 Parts in the market.