Who Needs a Bitcoin ETF? Crypto Scoffs at SEC Rejections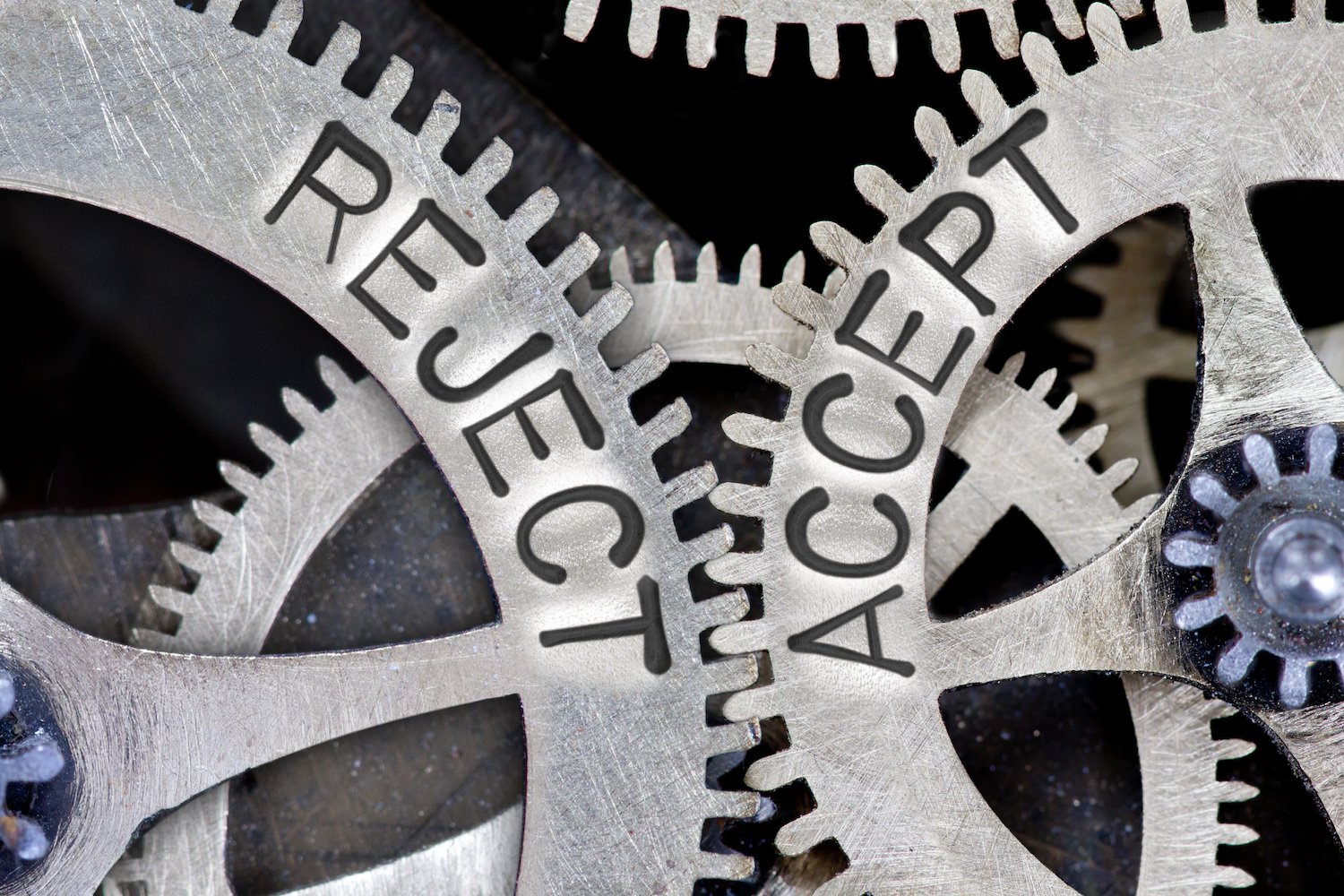 Over the past two days, the narrative on bitcoin exchange traded funds (ETFs) in the U.S. has felt like a rollercoaster.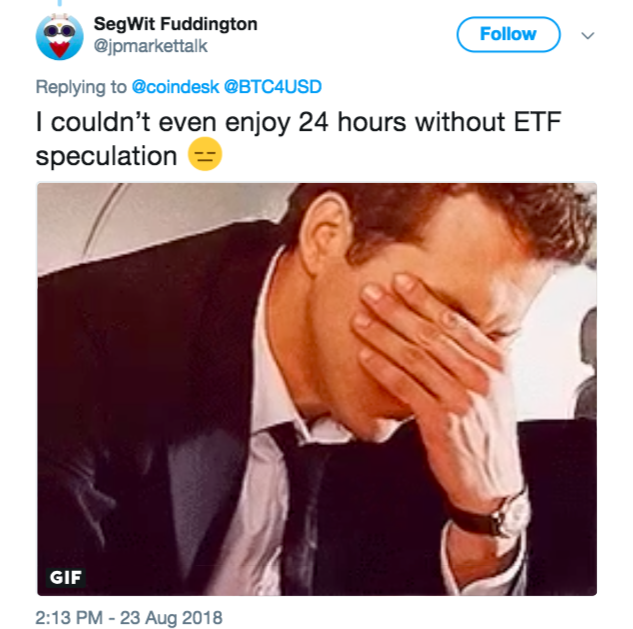 Up until Wednesday, all eyes were watching for a final decision on two futures-backed bitcoin ETF proposals set to be listed on the New York Stock Exchange (NYSE) and created by ProShares.
However, the resulting decision not only shot down ProShares' twin proposals, but five others like it by Direxion and another two by GraniteShares, with the latter to be listed on the Chicago Board Options Exchange (Cboe).
Then, as if matters had not been rousing enough, the SEC announced the following day a petition to review all nine disapproval decisions in accordance to Rule 431(e) of the Commission's official "Rules of Practice," noting that until such a time the review is complete all such decisions would be stayed.
In truth, it isn't as if the SEC has never turned around to re-examine their rulings in a similar manner before. Just last month, the results of one such review over the Winklevoss bitcoin ETF was released, ultimately re-affirming the initial rejection.
Still, the fallout from this week's events on the matter of regulatory approval over a bitcoin ETF has left many in the crypto community jaded over what feels to be a continuing uphill battle.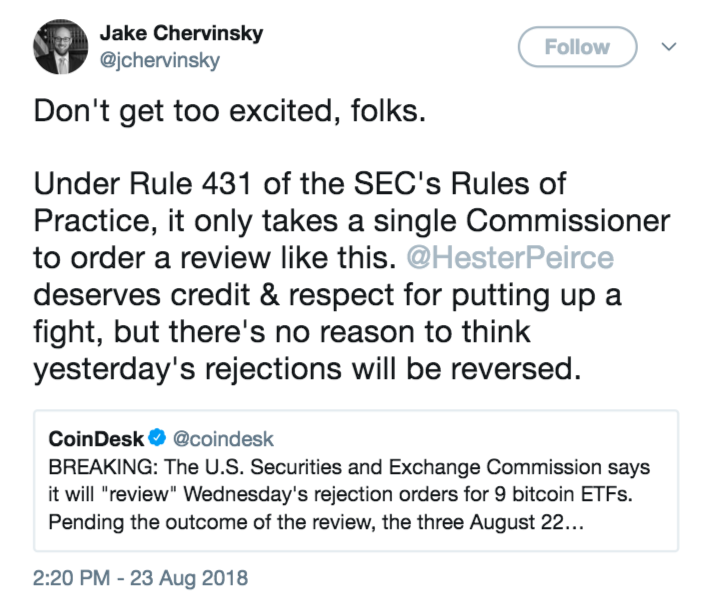 In fact, some have taken to Twitter in accusing the agency, in part jokingly, of using their powers of regulatory disapproval then review to "stress test" the bitcoin markets.
To be fair, market manipulation was a key reason specified for the initial disapproval of all nine ETF proposals, though to the wider crypto community this decision was taken primarily as a barrage of attacks by the agency deliberately meant to hinder the growth of the industry.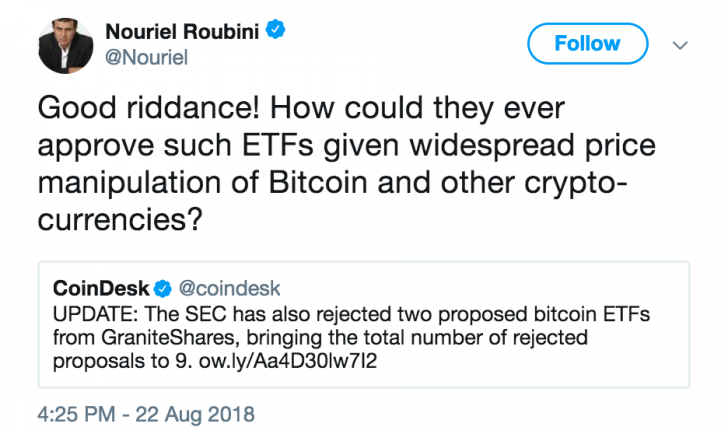 A Glimmer Of Hope?
Interestingly enough, the SEC did stop just short of handing down a rejection on all ten bitcoin ETF proposals said to be decided upon in the next two months. One remains in this respect put forth by VanEck and SolidX for a physical bitcoin ETF that commentators in the past have touted as being the strongest candidate of the batch.
As such, coupled with the reality that technically the other nine disapprovals are now pending under SEC review, certain commentators on Twitter see the culmination of this week's events as reason to believe there might just be a major reversal of fortune in coming weeks.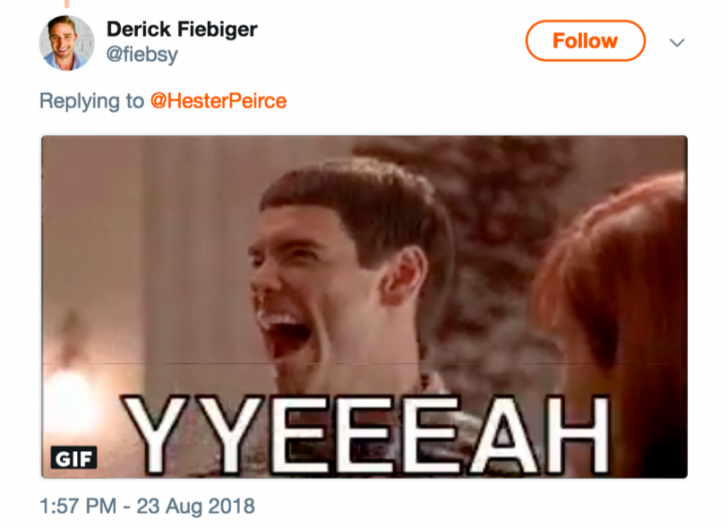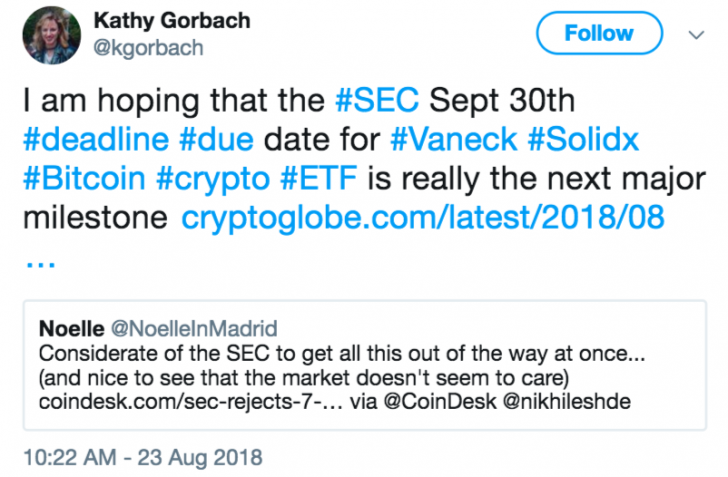 Who really cares?
Yet, important to note in the midst of the discussion, is a strain of bitterness expressed by some regarding all the hubbub and attention bitcoin ETFs have been sparking as of late. The reoccurring critique by such commentators being that bitcoin ETFs aren't all that interesting, let alone, necessary for the continued growth of crypto markets.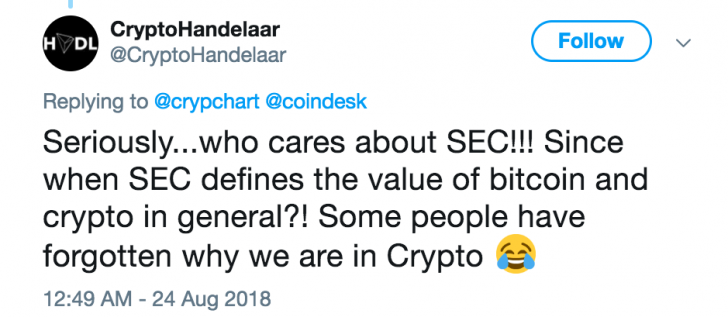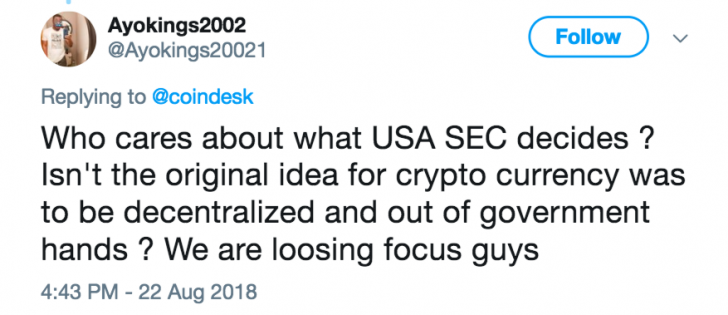 As such, to the ones that hold bitcoin as an asset otherly in nature from mainstream financial assets and not compatible in the guise of institutional investment vehicles such at ETFs, the rejections by the SEC have been touted as "a blessing in disguise" and a decision for review as nothing more than "overrated" news.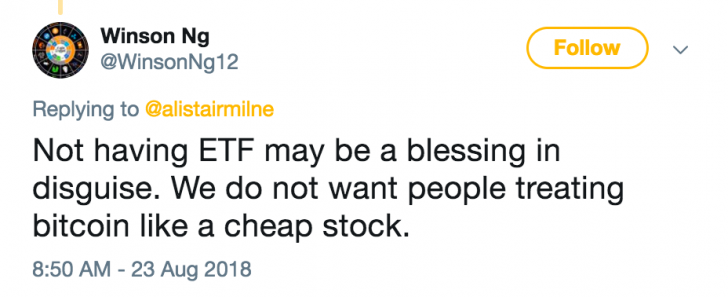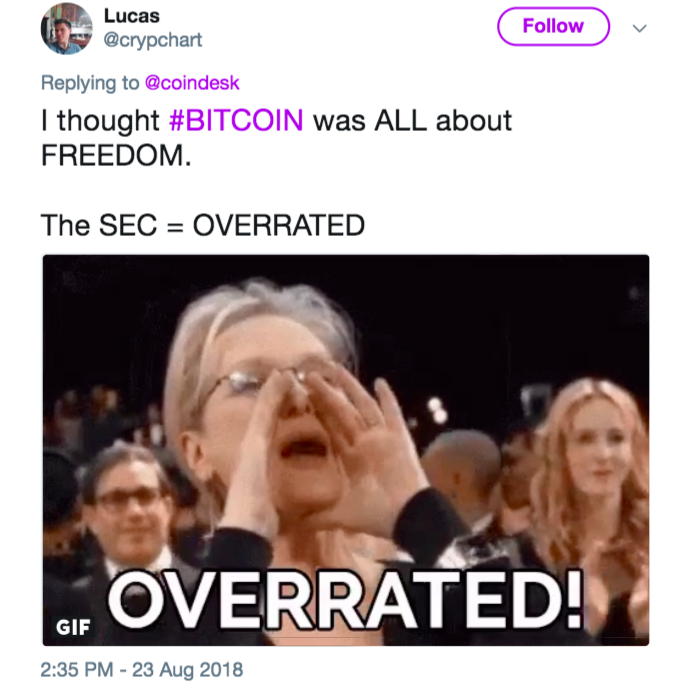 Agree or disagree, for the time being, regulatory approval over a bitcoin ETF remains highly speculative here in the U.S.
For "TenaciousJ" that means one simple fact: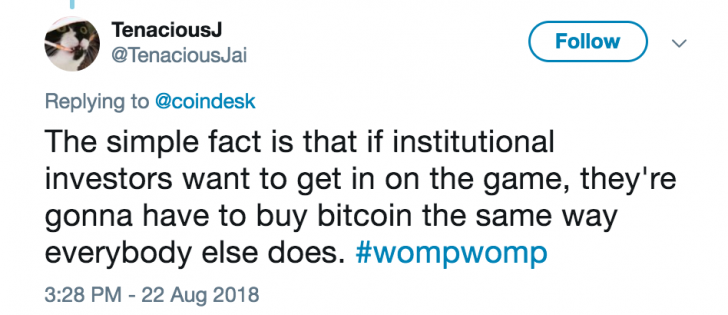 Computer image via Shutterstock
The leader in blockchain news, CoinDesk is a media outlet that strives for the highest journalistic standards and abides by a strict set of editorial policies. CoinDesk is an independent operating subsidiary of Digital Currency Group, which invests in cryptocurrencies and blockchain startups.
Spectrum Offers Unbeatable Entertainment For The Best Value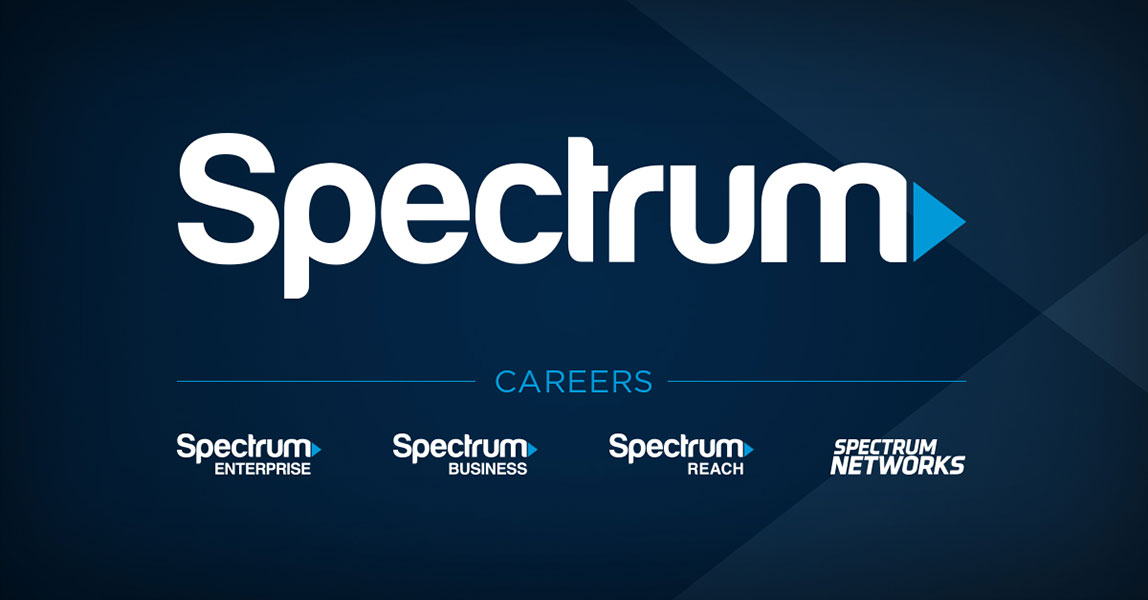 TC on your terms with more FREE HD
FREE HD with every Spectrum TV package.
Enjoy FREE on Demand movies and shows, including Primetime favorites.
FREE Spectrum TV App
Stream up to 180 live TV channels, including your local broadcast networks. Plus, access up to 50,000 on Demand titles at home and on-the-go.
Introducing Spectrum Originals
As a premier destination for premium original series available exclusively to Spectrum TV customers. Now available! You can watch L.A.'s Finest, Free on Demand, anywhere on any device.
L.A.'s Finest: From the universe of the Jerry Bruckheimer "Bad Boys" franchise, the one-hour series followed Syd Burnett (Gabrielle Union) and Nancy McKenna (Jessica Alba_. Taking on the most dangerous criminals in Los Angeles while skirting the rules, and speed limits, Syd and Nancy become a force to be reckoned with — on the streets, and in each other's lives.
Where Did Jay Stark Come From?
Sunshine State
When asking Jay Stark where he is from, he laughed and said he's from the earth where all of us are a big family on a journey to make the most of our limited time together. After digging deeper, he told us he's from the Sunshine State but definitely enjoys the cold atmosphere more.
Growing up as a kid, one of his dreams was to travel the world and learn new things. He now spends his time traveling the world doing life-changing workshops while embracing different cultures around the world and spreading good vibes everywhere he goes.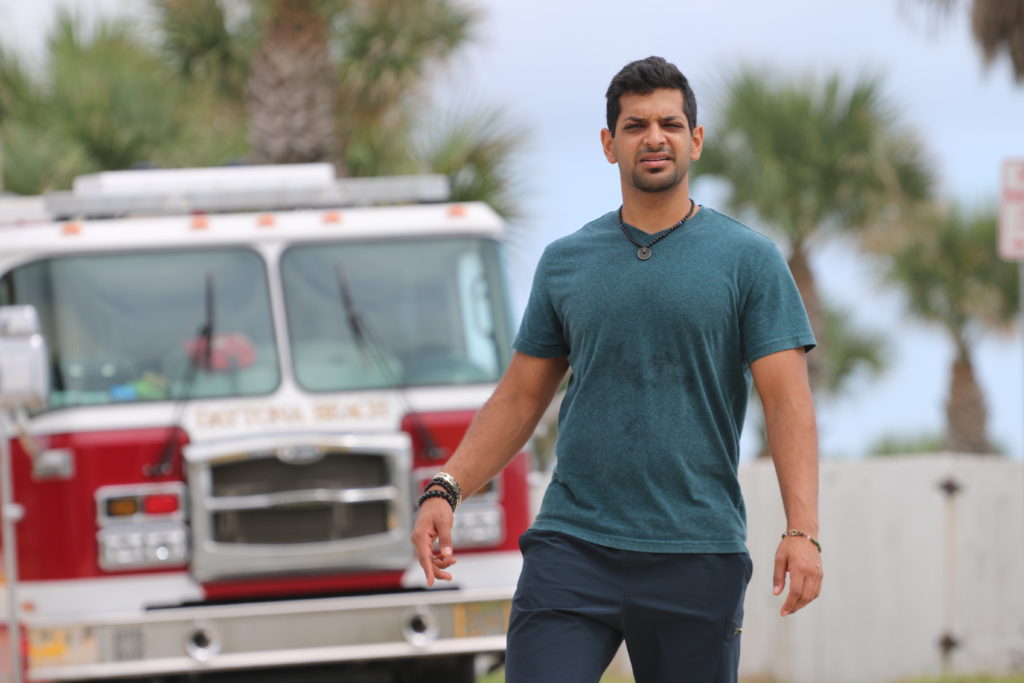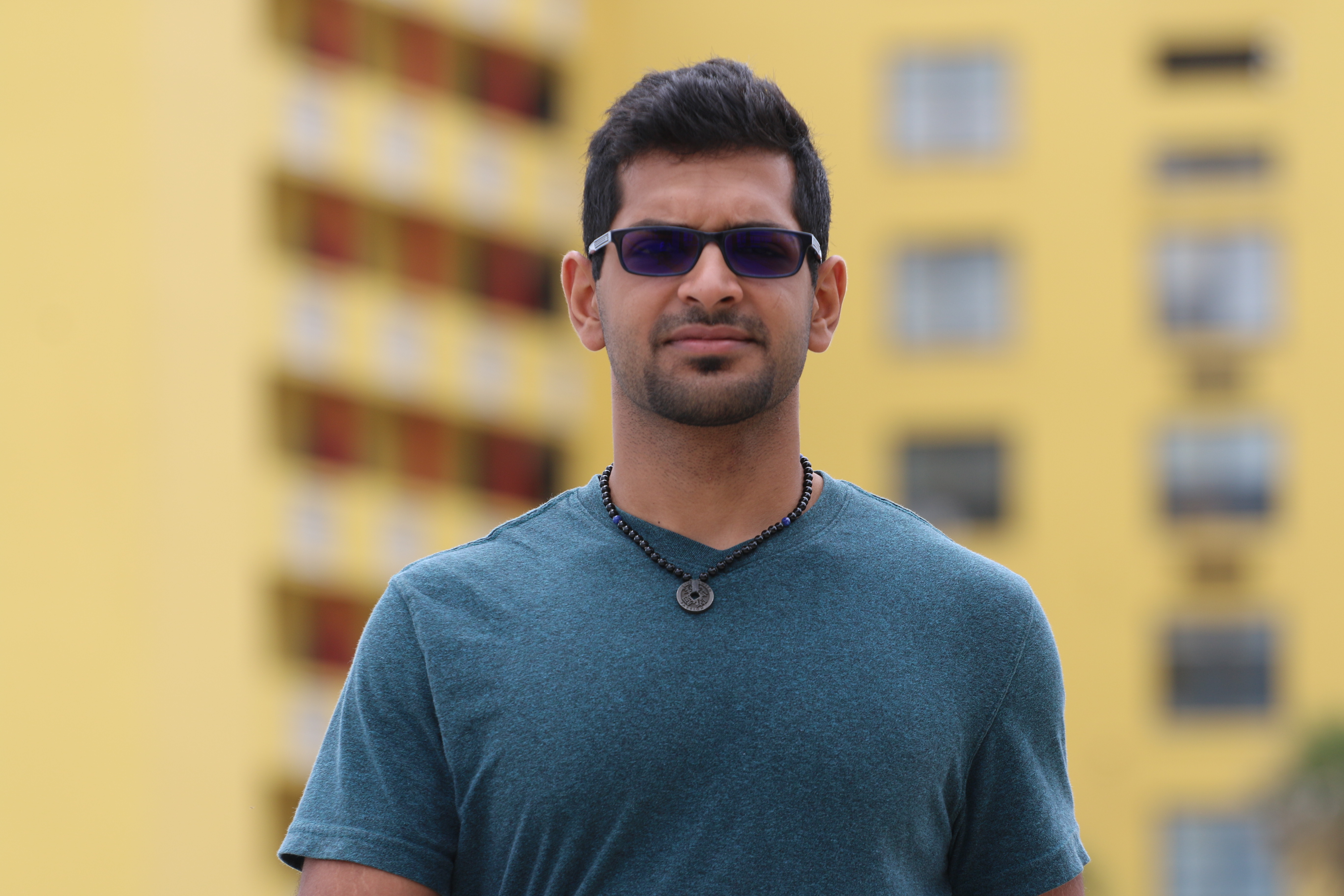 Jay Stark is an author, speaker, and consultant who lives to inspire and empower people to realize that they are capable of achieving any desire if they put their heart and soul into it with a pinch of their mind.